On Dec. 5 a Montana couple doubled their family when they welcomed their boys Cade, Ian and Milo.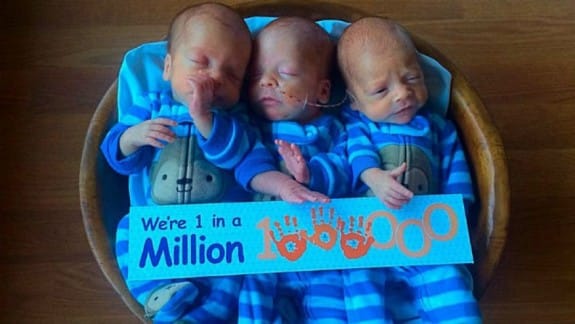 When Jody Kinsey found out she was pregnant last May she knew there was a possibility she could be having twins. Her husband Jase is a twin so multiples were always a possibility.
But the news she received at their first ultrasound was a far bigger surprise.
"The technician said 'there's a lot going on in here,' " she recalled. "She said 'you need to get a second opinion, but to me it looks like triplets.' "
Shocked, Jody called Jase and told him he had better sit down.
"Why, are we having twins?" he asked her. "She said, 'no. We're having triplets.' "
This set was special though. Jody wasn't just expecting three babies, she was having identical triplets – a pregnancy that is believed to only occur once every million births.
Completely spontaneous, identical triplets happen when the eggs splits and then splits again creating three babies that are sharing one placenta. A big concern with these pregnancies is making sure each triplet is growing 'equally and symmetrically'.
Even though her official due date was January 25th, Jody stopped working in September and went on bedrest in November.
On December 5th, after she started to experience mild contractions, doctors were forced to deliver the babies by c-section when it was found that the mom-to-be was dilated 8 centimeters.
Just short of 32 weeks, the three infants came out bawling.
The babies were born "in excellent condition," Dr. Dana Damron told the Billings Gazette.
Cade arrived first weighing in at 3 pounds, 13 ounces. Ian followed at 3 pounds, 11 ounces, while Milo made his debut at a very respectable – 4 pounds, 1 ounce!
When babies arrive so early one of the biggest concerns is their breathing. But thankfully that wasn't the case with the Kinsey triplets.
"Breathing was never a problem," Dr. Damron said. "Eating was a little bit more of a challenge for a couple of them."
The baby's birth came on so quickly Jase didn't make it in time for their arrival. The doctor, however, ensured that one of the nurses snapped pictures so he could see the delivery.
Jody is currently staying close by at the Ronald McDonald house with her mom and baby Cade, who has already been released from the hospital. Milo and Ian are still working on their feeding skills and can't be released until they are able to take all of their feeds independently.
Dr. Damron couldn't be happier with the outcome.
"When you see a patient with triplets, you take a deep breath and realize all sorts of complications that can occur," he said. "But when it turns out well in the end, it's one of the most amazing experiences."
Jody knows that her life is about to get crazy, but she doesn't mind.
"It's going to be interesting," he said. "I think it will be a blast, though. I can't wait."
Hopefully he older son Jax, 6, will be able to help as well!
---
[ad]