The ongoing Simplicity crib recalls have made the news again. An announcement has been made that points to 11 deaths from crib malfunctions. There are also an additional 25 non-fatal injuries that are linked to defects in the Simplicity crib drop rails.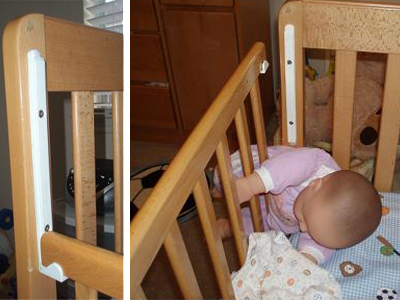 This recent announcement on Thursday by the Consumer Product Safety Commission came as a reminder for parents to check their infant cribs. Since the first recall began in December 2005, more than 2 million drop-side cribs manufactured by Simplicity have been recalled. Some of the recalled cribs have a Graco logo on them or have a Winnie the Pooh motif rather than a Simplicity brand logo, this has made it difficult for parents to identify if their crib is part of the recall.
The common problem of the recalled cribs has been the drop-side rail. The hardware meant to hold the side onto the bed can break or bend, causing the rail to detach. This creates a dangerous space where a young child can become entrapped and potentially suffocate.
The most recent death, according to the Consumer Product Safety Commission, was a 7-month-old child from Princeton, Ky. This is a reminder that even older infants can be potential harm by defective cribs.
If you suspect your infant crib is part of the recall you are urged to stop using it immediately and not attempt to fix the crib yourself. Repair kits are no longer available as Simplicity, and its owner SFCA Inc. appears to no longer be operating. Instead, parents need to find an alternative safe sleeping environment.
All Simplicity drop side cribs have been recalled. Some of the model numbers include but are not limited to: 4600, 4605, 4705, 5000, 8000, 8050, 8324, 8325, 8620, 8740, 8745, 8748, 8750, 8755, 8756, 8760,8765, 8778, 8800, 8810, 8910, 8993, 8994, 8995, 8996. The recalled drop side cribs were sold in department stores, children's stores, and mass merchandisers nationwide from January 2005 through June 2009 for between $150 and $300. – Summer, Staff writer
Recent Recalls: