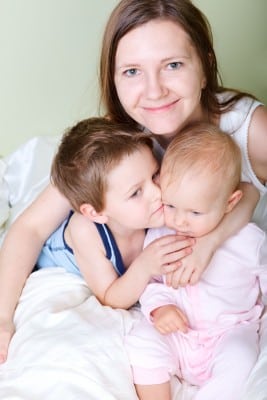 A new Pew Research Centre report published Tuesday suggests that more and more US women are opting to stay at home full time to raise their children. The study found that more than 29 percent of women preferred to be at home in 2012.
The factors for the shift in preference of women as cited by the research included, more women unable to find work, a rising number of immigrant women or non-US born women who preferred to stay at home with taking care of their children and ambivalence about the impact of working mothers on young children.
In 2000 the same numbers were 23 percent and in 2008 at the height of recession it was 26 percent, Pew research notes.
The women who prefer to stay at home include married, single, disabled, enrolled in school or unable to find work.
Of these women roughly two-thirds, 10.4 million had working husbands. 6 percent in 2012, up from 1 percent in 2000 – said they could not find a job, according to Pew, which relied on U.S. Census and other government data.
The researchers also found that regardless of their marital status the mothers who stayed at home were younger and less educated than their working counterparts. The married mothers mostly said they were home because of their children while the single ones said they could not find a job, were disabled or were studying.
Among all at-home mothers in 2012, 51 percent had at least one child 5 or younger, compared with 41 percent of working mothers.
One of the most striking pieces of information from the study was that 34 percent of the at-home moms were living in poverty compared to 12 percent of working moms.
Only 5 percent of married, at home moms, were considered 'affluent' with a working husband. Nearly 370,000 of them had at least a master's degree and a median family income of over $75,000 a year in 2012. Those considered 'elite' were mostly white or Asian with 69 percent white and 19 percent Asian. Only 7 percent were Hispanic and 3 percent were black.
40 percent of non-US born moms preferred to stay at home compared to a quarter of mothers who were born in the country.
Among at-home mothers living in poverty in 2012, 36 percent were immigrants, the report said.
It also points to stagnant income for all, but most who are less educated compared the cost of child care against wages and decide to stay at home.
While clearly attitudes over the decades toward working mothers have grown warmer, "most Americans continue to believe that it's best for children to have a parent at home," said D'Vera Cohn, a senior writer at Pew who worked on the report.
Since 2008, about 70 percent said when questioned in an ongoing social survey that a working mother is just as capable as an at-home mother of establishing the same "warm and secure" relationship with her children. But 60 percent of Americans in a recent Pew survey said children are better off when a parent stays home to "focus on the family," compared with 35 percent who said children are "just as well off with working parents."
---
[ad]