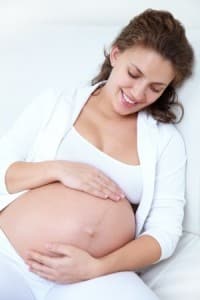 About six percent of all pregnant women use steroid creams during pregnancy to alleviate symptoms from skin conditions like eczema, psoriasis or general irritation – conditions that are often further exasperated by pregnancy. Former studies have found the use of these creams to be generally safe for the fetus. Now another study, published in the journal JAMA Dermatology, has confirmed those findings.
Led by author Dr. Ching-Chi Chi of the dermatology department of Chang Gung Memorial Hospital in Chiayi, Taiwan, researchers analyzed the delivery outcomes of about 2,700 women who were prescribed a corticosteroid cream during pregnancy and 7,200 women who had not been prescribed a cream. The information, which came from the UK between 1989 and 2006, also included birth defect rates and delivery complications of those pregnancies.
Overall, 4.7 of the babies whose mothers had used corticosteroids were low birth weight; this was compared to 4.8 percent in the mothers that had not used the creams during pregnancy. And in both groups, a little less than 1 percent of babies were born premature (prior to 37 weeks gestation). So, essentially, there wasn't any difference between the two groups, regardless of corticosteroid cream use.
"This is not new information, however, this article is reassuring to women who are using some topical corticosteroids," Dr. Heather Lipkind, an associate professor of obstetrics, gynecology and reproductive sciences at Yale School University of Medicine in New Haven who was not involved in the study, told Reuters Health."
However, there was one new piece of information found by the researchers of this study. Women who used 300 grams of very potent corticosteroids during their pregnancy had babies at an increased risk for low birth weight babies (about sevenfold). This equates to about six standard-sized tubes. Some examples of potent topical creams include clobetasol Propionate, betamethasone dipropionate and fluocinonide (marketed as Vanos and Lidex). These are generally used to treat severe inflammation, itching and psoriasis. Additionally, steroids are thought to dysregulate placental hormones and prevent important proteins from getting to the baby, Chi told Reuters Health.
However, current guidelines recommend that pregnant women use mild to moderate strength creams during pregnancy, and potent creams are only supposed to be subscribed when it's absolutely necessary. Should those strong creams be needed, Chi says that doctors should monitor the growth of the fetus. However, this risk should not deter mothers from using creams to treat their conditions, he added.
"We would not recommend pregnant women stop using topical steroids just because of exaggerated fear of the potential side effects," Chis said. "We encourage women to apply topical steroids appropriately under physicians' guidance, which would treat skin conditions effectively and improve pregnant women's life quality."
Related Articles:
---
[ad]