A woman in the UK is facing jail time after a string of bizarre events that included abandoning her newborn baby on a doorstep. She told police she hid the pregnancy and childbirth from her husband, believing the child was a result of an affair.
According to testimony heard in court yesterday, Leigh-Anne Varley, 36, told her husband Simon, 39, and their two children, 16 and six years old, she was swollen due to ovarian cysts to cover up her pregnancy.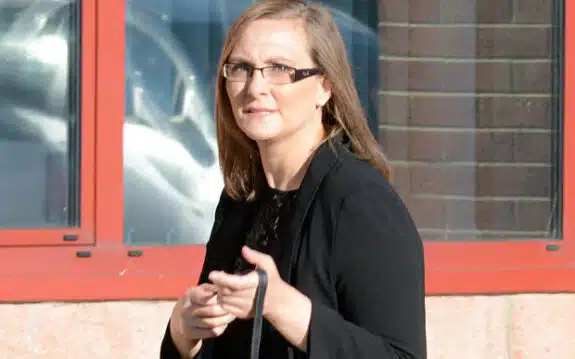 Varley explained she feared her family of four would be torn apart if they found out the truth – she was pregnant by another man. To avoid exposing the affair, Varley planned a home delivery, prepared scissors and towels, and decided where to abandon the baby near her home in Hordem, County Durham, England.
While she was in labor, she did housework and put her six-year-old to bed. She delivered the baby in her bathroom alone, while her teenage daughter was out with friends and her husband was working the night shift.
Varley cut the umbilical cord with kitchen scissors, wrapped the placenta in a bag and dumped it in the trash. She then tucked the newborn in a gown and snuck out of her house to place him on the doorstep of a flat. She left her son with a note saying, "Please take care of my baby boy. Please don't go public as my husband is violent and will kill me."
The mother returned home within minutes, booked a trip for her family to Disney World in Florida, then went to work.
The baby boy was found by a man walking his dog between four and five hours later. He was cold, but otherwise unharmed.
Varley admitted to abandoning her baby, in violation of the Children and Young Persons Act 1933.
Prosecutor Sarah Traynor said in court, "This is a very sad case, she is of previous good character and was in a desperate situation which led to the offence occurring."
Sheila Ramsham, mitigating, added, "This poor lady has suffered a lot over several months, she is of impeccable character, she is someone we will never see before the courts again."
Varley was sentenced to 14 weeks in prison, suspended for 12 months, and ordered to pay £350.
---