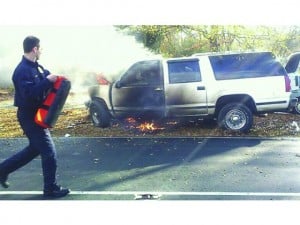 Firefighters from Charlotte, North Carolina were enjoying some Christmas cheer and celebrating the season with an early Christmas dinner, this past Sunday afternoon when one of the Firefighters noticed smoke coming from just across the street. Upon closer inspection, the crew found the smoke was from an SUV that crashed into a tree.
The SUV had flames coming from under the hood and the diver's side door which was originally white was now black from the fire.
One of the paramedics on scene, that was thirty five yards away from the flaming vehicle commented,
"You couldn't see in the vehicle".
The driver of the vehicle, Kathy Lamberth, lost control while trying to get her baby's pacifier and hit a tree trapping herself and her three week old son in the vehicle.
Kathy blacked out and awoke to find her SUV crumbled and on fire  just a few yards from her home.
Firefighter/EMT Jake Beatty and Paramedic's Neil Jones and Peterson had to go through the rear doors of the vehicle in order to access the pair.

Peterson commented, "We knew while it was an urgent situation we could make the rescue without harming ourselves".
Peterson attended to the mother and child while the firefighters freed them from the burning vehicle.
Luckily the baby wasn't harmed in the accident and the new mom suffered minor trauma and has since been treated and released from the hospital.
The quick response from the paramedics and firefighters was credited to the fact they were all gathered in one location from Christmas dinner.
"That was a 50-yard dash. We put 30 firefighters on the scene in less than 30 seconds," Community Fire Department Chief Gary Jackson told reporters.
Kathy believes that the paramedics and firefighters that came to her aid that day were her guardian angels.
– Jeff, Staff Writer
Related Articles:
---
[ad]