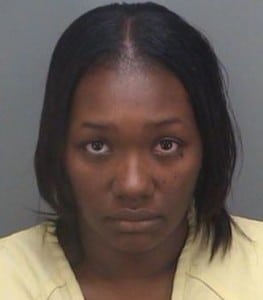 Over the last couple weeks there has been an endless string of stories of parents leaving their children locked in vehicles – alone.  A sad trend, that lead to a 25% increase in hot car infant deaths in 2013 over the previous year.
The latest case is the mom of a 4-month-old infant, whom police say was left in a van unattended for 'hours'.
Just before 4pm on Saturday afternoon officers in St. Petersburg Florida received a call about a child who had been left in a van unattended for several hours.
The mother, Natasha Graver, told police she placed her child in her car seat before heading to a local church to attend a funeral.  Once at the church she reportedly forgot the child was in the car and proceeded into the building leaving the van windows up and engine off.
After the service was finished she drove home, still unaware the baby was in the car and left the child in the van while she went into the house.
Her husband, police say, didn't question where the baby was because he thought she had been left with relatives.  It wasn't until they were making plans to go out for dinner that they found the baby unresponsive in the back seat of the vehicle.
When paramedics arrived they treated the infant for heat exposure and transported her to All Children's Hospital.
The infant's condition appears to be stable and not life threatening at this time, but she remains at the hospital for further testing.
Officers estimate, that the child was left unattended in the van for approximately three and a half hours.
Natasha was charged with one count of child abuse and transported to the Pinellas County Jail.
Child Protection investigators were also dispatched to the scene but have allowed Natasha's four other children, ages 13 to a 1 year old, to stay in the custody of her husband.
I know we all live such busy lives but it's sad to think that a baby this young could be forgotten for so many hours.  As a parent wouldn't you wonder about them needing to be fed or changed?
---
[ad]