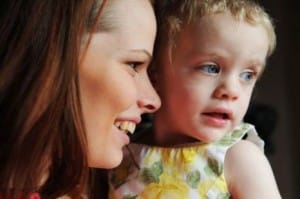 Penny Jarvis was heartbroken to find out that her daughter had a rare genetic condition called Turner Syndrome. Especially when she found out that the condition left her daughter infertile. So Jarvis decided to freeze her own eggs for her daughter to use some day.
Turner Syndrome is a hereditary condition that affects women, leaving them without an important X-chromosome. Because of this, the toddler Mackenzie Stephens was born without ovaries and is unable to conceive a child on her own. Jarvis, a mother of five, knew how important being a mother was to her. So she decided to help her daughter in the best way she could, by having her own eggs frozen should her daughter want to have children of her own when she becomes an adult.
The full-time mother from Sheffield, said: 'The doctor was talking about chromosomes and things and it was all a bit of a blur.

'The only word I heard at the time was 'infertility' and I just burst into tears. It's what most people want to be; a mum.

'She has three sisters and I couldn't imagine her growing up and watching them all have children while she couldn't have any of her own.

'Obviously, every mother wants to be a grandmother someday – that's what they dream of.

Turner Syndrome affects one out of every 2,500 girls. More than just infertility, it can also cause mental and physical health problems. Issues such as heart defects, swelling of the limbs, and a limited growth. The lack of an X-chromosome also means hormonal deficits. Mackenzie has to take daily growth hormones to counter the stunted growth she will face. She also sees behavioral specialists to deal with mood swings, and is partially deaf.
While Jarvis was researching the condition, she stumbled across the possibility of egg donations to help with the infertility. For some, invitro fertilization is an option that they can use to have children.
'While some of the stuff I was reading was scary – talk of congenital heart defects and diabetes – I discovered that egg donation was a possibility.'
Because the eggs come from Mackenzie's mother, any children she has from them will also be her half-siblings. This has caused some concern from ethicists who warn that this could cause issues from the children who are uncertain who exactly is their mother. Others warn that this could also cause psychological problems in the daughters who use eggs from their own mothers. Medical experts, such as Josephine Quintavalle of Comment on Reproductive Ethics (CORE), also warn that there are social and ethical problems from this practice.
Despite the naysayers, Jarvis is happy to be able to help her daughter should she one day want to be a mother also.
She said: 'You could look at it as Mackenzie giving birth to her own brother or sister, but I choose not to see it like that.

'You do the best for your children and Mackenzie's daughter or son would be her own.

'It's a comfort to know that if she did have a child they would still have part of her own genetic make-up as well, so it would still be a part of her.

'I'd like to think her sisters would offer their eggs too. But if they didn't, at least the option would be there for her.

'A few people have told me they think it's a bit sick, but on the whole people have been supportive.
– Summer, staff writer
Related Articles:
---