Even though Linda Goodwin has delivered more than 2,500 , she never dreamed that she would be assisting in the arrival of her triplet grandchildren.
When daughter-in-law Leanne arrived at the hospital to give birth to her triplets, she was accompanied to the ward by mother-in-law Linda – who was asked to by her colleagues to be and extra pair of hands to help with the tricky deliver.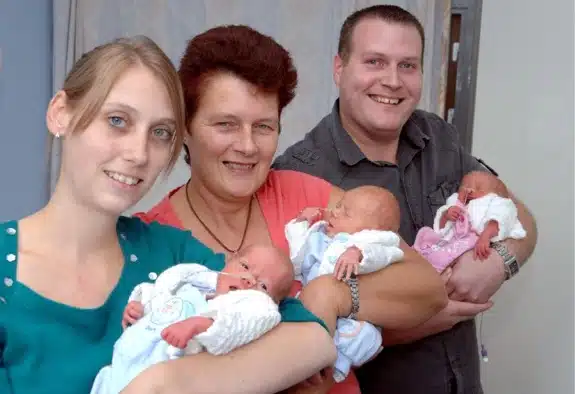 So she put on a surgical gown and joined the team in the operating theatre, where the babies were delivered by caesarean section.
Leanne said: 'The midwife told us they were so busy that day and they asked Linda if she would mind stepping in. I was so nervous before the birth, but Linda was fantastic, and really talked me through it. I was so glad she was there and helping out. It made me feel so much better.

'I never imagined my mother-in-law delivering my babies, but I couldn't have asked for a better midwife.'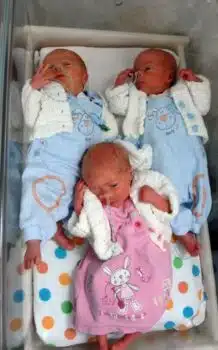 First to arrive was Harvey, weighing 4lb4oz. Linda was by the surgeon's side as he delivered the tiny baby. She was given him to take away, clean and weigh, and the other two midwives were given Elsie, who weighed 3lb11oz and Alfie, who weighed 4lb2oz.
There were two other midwives, two surgeons, another doctor and an anaesthetist and several other nursing staff in the delivery room at Norwich and Norfolk University Hospital.
All three were healthy, but were kept in for 2 weeks. Now aged 14 weeks, they are at home and thriving.
Leanne is one lucky mom. On top of helping with the delivery, Linda has been helping out changing diapers and feeding them too.
The proud grandma said:
'Leanne and I have always had a close bond, but delivering my grandchildren for her has made our relationship all the more special.'
---