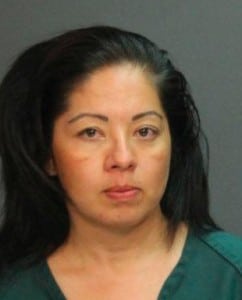 Even in the best of situations, children sometimes make wrong choices, head down the wrong path. As a parent, it literally breaks your heart to stand by, powerless, and watch it happen. But there are things that parents can do, systems and help out there for struggling parents. If only Irma Jacobo Navarro had known about these systems before she decided to chain her ten-year-old son up in order to keep him from wandering the streets.
According to police, two women had been out for a walk when they saw a young boy who said his mother had chained him up. The two women called the authorities, and low and behold, when they went to check on the 10-year-old child, they found him lying in the courtyard of an apartment complex with his legs bound and thrust through one pant leg.
Wrapped around his ankles five times, the aluminum chains around his ankles had caused "slight bruising and redness," spokesman Cpl. Anthony Bertagna told LA Times.
The mother of three was reportedly paying for a sitter for her youngest child and couldn't afford a sitter for the 10-year-old. Further investigation revealed that the boy had a history of roaming the neighborhood, sometimes well after dark. Navarro had become concerned that her son was getting involved with local gang members and "taking the wrong road," Bertagna said.
"Basically, this was a last resort in an attempt to get control of her kid," Bertagna said. "Unfortunately, it's not the proper method to do so."
Now that she's facing charges for willful cruelty to a child, Navarro can probably testify to that.
But what should a parent do when a child seems to be completely out of control?
Bertagna says that parents who are struggling with their children can reach out to state resources. There may even be community resources available in some areas. One thing is for certain – it is never, for any reason, ever okay to chain a child up.
On one end, I can sympathize with this mother. Though the article does not state anything regarding whether or not she is a single mother, it would certainly sound that way; being a single mother is hard! I can also understand the struggle of trying to keep her children safe and off the streets. But at the same time, I find it hard to believe that she could have somehow justified in her mind that it would be okay to chain a child up, let alone her very own. It's absolutely heartbreaking to think of how much pain this child, and yes, even his mother, must have gone through to reach that point. I only hope that this does not have permanent ramifications for the young boy.
What are your thoughts? Have you ever faced a situation with your child where you just didn't know what to do anymore? How did you get through it? We'd love to hear your thoughts.
Related Articles:
---
[ad]