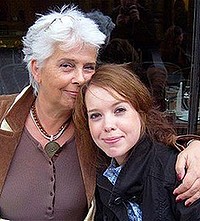 Sara Ottoson, a 25-year-old biology teacher is hoping that she and her mother are selected for a rare surgical procedure in which Sara would receive the uterus of her mother, Eva Ottoson. Sara has Mayer Rokitansky Kuster Hauser syndrome, a condition in which the sufferer is born without a uterus. It is a condition that affects 1 in 5,000 women. And, like most women with MRKH, Sara did not learn that she had the condition until she was a teenager.
Eva, Sara's mother has had two children with her uterus and is now 56. While many people find that donating her uterus to her daughter is strange, Eva stated that she and her daughter are, "both very rational people and we both think it's just a womb." Eva also said to reporters, "She needs the womb and if I'm the best donor for her, well, go on."
Sara's biggest concern has nothing to do with accepting her mother's womb. In fact, she claimed that she hadn't really thought about whether or not it is weird. Her only concern seems to be for the health of her mother. Eva will undergo a procedure similar to a hysterectomy and the uterus will then be implanted in to her daughter.
But Sara and Eva don't know if they will be selected just yet. Gothenburg doctors at the Sahlgrenska University Hospital have been carefully evaluating possible patients for the procedure. The pair has completed the required testing process but they have not heard if they will be selected for the surgery yet.
If the transplant is successful, Sara's eggs will be fertilized by her boyfriend and then implanted into her mother's uterus. Sara will have to deliver by caesarean birth and, once she and her boyfriend are finished having children, the womb will be removed from her body.
The only other uterus implant performed was not successful. A 26-year-old woman received a uterus from a 46-year-old woman. The young woman had lost her uterus due to hemorrhaging and experienced complications with the transplanted uterus. It was removed 99 days later.
Dr. Mats Brannstrom, the medical team leader, does not glorify the prognosis, in the slightest. Brannstrom admits that this procedure is very difficult. So difficult, in fact, that it is considered one of the most complicated surgical procedures in medicine today. Brannstrom related the procedure to "working in a funnel." The pelvic area is very small and rather difficult to get to and, in order for the surgery to be a success, the blood vessels in Sara's body must be long enough to actually connect the womb.
If the surgical procedure is not successful, Sara plans to adopt a child. My biggest concern is for the safety of the mother and daughter during the procedure. It seems like a pretty big risk. Of course, I do understand the desire to have your own child. I just hope that both women pull through the procedure safely, regardless of whether or not the procedure is a success.
---