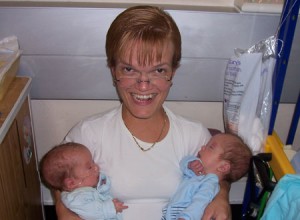 Kirsty Fowler is a special kind of mother to her sons, Freddie and Jack. So special that she's actually one of a kind in the UK. Fowler has dwarfism and successfully carried twins, a first in the UK.
When Kirsty and her husband Kevin found out they were pregnant after problems conceiving, they were excited about the chance at parenthood. Then the couple found out that they had not one, but two children on the way. What is normally an unusual pregnancy was made even more so by Kirsty's condition, achondroplasia.
"The doctors weren't sure my body would be able to cope with carrying two babies at once.

"They went away to do some research then told us, 'This hasn't happened before, We're in uncharted territory'."
Due to Kirsty's short stature, doctors were not sure what carrying two fetus would mean for her health. As well as that of the babies. Despite the unknown risks, the couple decided to go ahead with the pregnancy and hope for the best.
"We agreed to just hope for the best, and accept whatever came our way. And thank God, we were granted a miracle."
According to her doctors, there has only been one other case of a mother with dwarfism carrying twins, and that was in the US. To make sure the babies were growing well, Kirsty had scans done every two weeks. Because of her short size, there was not much room for the babies to grow. Soon her stomach was massive.
"Having such a huge tummy was a dreadful strain on my knees and back. I was horribly uncomfortable. I just rested as much as possible, to give my babies the best chance."
At 30 weeks pregnant, Kirsty's blood pressure soared dangerously and doctors performed an emergency c-section. The infants were born weighing 2 pounds 6 ounces, and 3 pounds. Due to their small size and premature age, the babies had to spend weeks in the special care unit.
"It was a massive shock to see them in ­separate incubators, ventilator tubes in their mouths, wired to machines that beeped and flashed. We could hold each son in the palm of one hand."
The first few weeks of the twins lives were difficult. Both babies faced MRSA twice, Freddie had to have surgery for a hernia and Jack was diagnosed with cerebral palsy. Blood tests also confirmed that both twins had achondroplasia like their mother.
Despite the rough start, both babies are growing and thriving. They have entered preschool, where the physical signs of their dwarfism are beginning to show.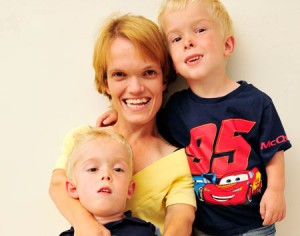 The fact I'm a mum who also happens to be a dwarf gives me an advantage as I begin the delicate process of helping my two boys come to terms with achondroplasia.

"Life is short for all of us. So I'm raising the twins to share my belief that we have to make the most of it."
The couple says they both want more children in the future, though Kirsty says she doubts she will be pregnant again. -Summer, staff writer
Related Articles:
---
[ad]