Mothers in the United Arab Emirates are now duty bound to breast feed their babies. According to a new law passed last week under Child Rights legislation, moms will have to compulsorily breastfeed babies up to two years of age.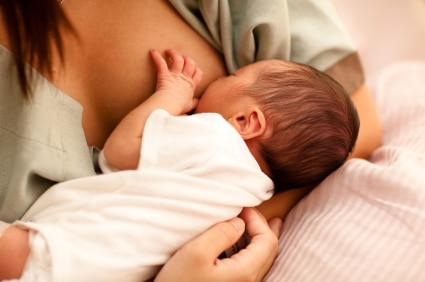 The Federal National Council's Health, Labour and Social Affairs Committee of the country has agreed to amend a clause of the Child Rights law which states that breastfeeding is a "duty, not an option, for able mothers".
It is not clear how the law will be executed but as per committee member committee member Sultan Al Sammahi, the mothers who do not breastfeed could be punished.
Opinions about the new law however have been divided.
According to Federation's Minister of Social Affairs Mariam Al Roumi the stringent law could lead to other issues such as husbands suing their wives if they did not breastfeed.
"This part of the law can be a burden," she said. "If the law forced women to breastfeed, this could lead to new court cases."
Committee members argue that the new clause is consistent with the local workplace laws where mothers are allowed to take time off during work to breastfeed their babies and it would only promote a stronger bond between mother and child.
Australian Breastfeeding Association spokeswoman Nicole Bridges feels this strict law would only pressurize moms who were struggling to breastfeed and might not be effective in raising the breastfeeding rates.
"Thankfully I can't see such a law ever being passed in Australia," she said. "Women should ultimately have control over their own bodies and have the right to decide how they will feed their babies in a way that is best for them and their families."

"Breastfeeding is only one part of being a mother, but the guilt some women feel if they are struggling to successfully breastfeed their babies is already significant, and a law like this would only add to that feeling of failure.

"It has been shown that the best way to increase breastfeeding rates is to increase support to women both when they are pregnant and after the baby is born and breastfeeding is being established. Whether it be in the form of longer periods of maternity leave so mothers can stay home with their babies, or education about breastfeeding, support and knowledge are definitely the key."
Research has found that breastfeeding has many benefits on the immunological and physical development of the child. It reduces the risk of obesity, helps in better language development and also motor development. But many women are not able to breastfeed because of medical reasons. The council says in such cases the mother will be provided with a wet-nurse. It is still not clear how it will be determined if a new mom can breastfeed her child or not.
Some mothers in the UAE  have spoken out against the law saying that a compulsion could actually make women dislike breastfeeding. A better way is to educate them of the benefits of giving breast milk to newborns.
"We need awareness and encouragement, not laws that oblige us. Many women have issues, like medical conditions that prevent them," 28-year-old Maitha Al Suwaidi, a working mother of three said. "Others are working and only have a one-hour break to get to their child. We have circumstances that hold us back and prevent us from breastfeeding."
In the US although there has never been any legal law to make breastfeeding a norm, in 2012, former NYC Mayor Bloomberg introduced "Latch On NYC," a program that encouraged hospitals to make it difficult for new moms to obtain formula. It is a way to discourage formula feeding and rely on it only if absolutely necessary.
Marie-Claire Bakker, a member of U.S.-based breastfeeding support group, La Leche League, has echoed those sentiments in response to the Emirates' new legislation. "At this vulnerable time, to think of criminalizing a new mother who, for whatever reason, is struggling with breastfeeding is not helpful … She needs informed support, not threats," she said.
---
[ad]