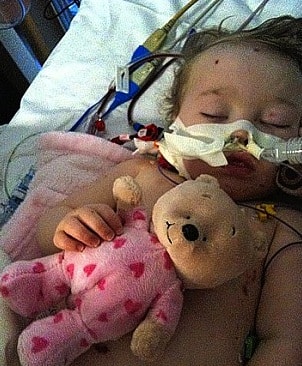 In the blink of an eye, life can change. What we often feel will remain forever can be swept away in an instant and the chasm of pain and emptiness left behind can be paralyzing. Jennifer Lawson, 31, knows this pain well. She felt it when she nearly lost her daughter, Alice.
It was Valentine's Day, 2010 when Alice fell sick. At first, Jennifer didn't think much of it.
"Alice was a healthy, happy child, just starting to take her first steps," Jennifer said. "She'd never had more than a minor chest infection, so I wasn't really worried when she became sick and off-color."
Like most mothers would do, Jennifer called their family doctor and made an appointment. After examining Alice, the doctor determined that she had a viral infection. He prescribed something to help bring her fever down and an antibiotic, and then sent her home. But it wouldn't be long before some scary symptoms developed. Purple marks starting spreading across Alice's stomach, right before her mother's eyes. Alarmed, Jennifer called the hospital and an ambulance arrived in minutes. Jennifer and her partner, Phil, followed behind in a taxi.
"It was awful being separated from Alice," Jennifer said. "I felt the loss of her closeness like a physical pain. She was with strangers, lying helpless in the ambulance. Phil and I couldn't even speak."
But things were about to get worse. When Jennifer and Phil arrived at the hospital, they found a scene that would make any parent's heart stop; doctors were rushing around her, filling her with antibiotics and running tests.
"When we arrived at the hospital in Sheffield, I caught a glimpse of Alice in intensive care, with her pink blanket and her little pony toy. I shouted to the doctors, 'Please don't give up on her!' and burst into tears…Everyone started shouting, and running around her with syringes and machines." Jennifer recalled. "We were taken to a family room, where Phil and I sat side by side in silence. I just went numb. I couldn't process it. Everything happened so fast. I felt I was outside my body, looking down on the scene. I don't think I even thought about the word 'meningitis' when they told us."
Yes, meningitis. That's what doctors had determined was wrong with tiny, 14-month-old Alice. And the prognosis was grim.
"Her little face was swollen. You could hardly make out her features," Jennifer said. "We felt utter disbelief. But she needed us to be strong for her. We clung to the positives – she was safe, in the care of doctors who could help her."
Jennifer and Phil wouldn't leave their daughter's side, not when doctors attached her to a life support machine, not when one of her kidneys failed and she needed dialysis, not when she developed septicemia that caused an infection in her knee and back, not even when doctors put her into a medically induced coma.
"I hardly left her side," Jennifer stated. "I'd gently wash her face, put lip balm on her sore dry lips, hold her hand. Phil and I would sing the familiar songs she liked, act out scenes with her teddy bears, and we fastened balloons to her bed."
Eventually, little Alice would be transferred to the Queen's Medical Centre in Nottingham. She seemed to improve. Doctors were even discussing a kidney transplant. Alice's parents had something to cling to – hope. But in an instant, that hope would be all but extinguished. Alice's blood pressure skyrocketed, her eyes glazed over, and her breathing became labored; all of which are tell-tale signs of a stroke. Alice was rushed back into intensive care.
"When we were told Alice had had a stroke, we didn't quite believe it. It's something you associate with elderly people," Jennifer said. "She had an MRI scan. Then they said she'd need a shunt fitted to drain the fluid from her brain. We heard snatches of the doctors' conversations: phrases like 'devastating bleed.' Phil became convinced she'd never pull through."
Phil admits that he struggled to hold onto any ounce of hope at this point.
"I thought: 'How much more can a tiny person take?'" he said. "From that point, I started to prepare for the worst."
Jennifer wasn't ready to give up yet, even when things continued to get worse. Her daughter's heart stopped for a brief moment; then doctors announced that she was back. Yet through it all, Jennifer couldn't say goodbye.
"I never said goodbye," she said. "You always hope and pray. I spent a lot of time in the chapel at the hospital, it's the only thing you have left to do.  When you've got nobody else, you ask for help there. I'd pray, 'Please let her get through this.'"
But it didn't look as though Alice would make it. In fact, everyone but Jennifer seemed to have given up. Alice, now in an impenetrable coma, wasn't getting any better.
"She was not responding. I would feel a rush of excitement because she moved her arm, then nurses would tell me it was just a reflex muscle reaction," Jennifer said. "When the doctors did their rounds, they walked past us. It seemed they'd given up."
Soon, doctors would tell Phil and Jennifer that it was time to say their goodbyes; there was nothing more they could do for the once bright-eyed baby.
Jennifer and Phil had little Alice Christened, but the short service bears little resemblance in the minds of her parents. Phil and Jennifer's parents came to say their goodbyes. But Phil's father wasn't willing to accept his granddaughter's death just yet.
"Our parents came in to say their goodbyes," Phil said. "My dad said, "She's not going yet," but I remember thinking he'd accept it eventually, in his own time."
Sharing that it was time to say goodbye was hardest for Phil and Jennifer when it came time to talk to Alice's older sister, Taylor, who was six at the time. While Phil and Jennifer tried their hardest to explain that she may never see Alice again, they couldn't find a way to tell her that all hope was gone.
"We told her Alice might be going to Jesus, but we had to see if he wanted her," Phil said. "When you see a child's face crumple in such a way, it stays with you forever."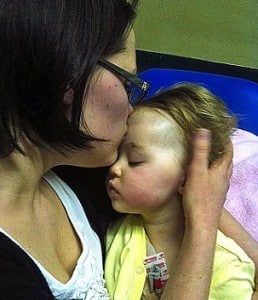 The last goodbyes were Alice's parents, Phil and Jennifer. They had already decided that their tragedy could be another child's hope; they would donate Alice's organs. But even during what was supposed to be the last moments of Alice's life, Jennifer struggled tremendously with letting go.
"I was in a daze," she said. "They had told me she would die that morning; that they were turning the machine off because she would never breathe on her own. So I tried to tell myself she was already gone, that it was only her little body lying there. But it doesn't work. You hold on to hope until there is none left."

"We'd taken footprints of her hands and feet as mementos and I'd stayed up with her late the night before, virtually passing out with exhaustion in the early hours," Jennifer said. "Then, early in the morning, I'd gone to her bed in intensive care and taken some balloons with me. She loved balloons. I fastened them to her bed then I kissed her."
In that kiss, so many emotions and thoughts flowed from mother to daughter. She cradled her daughter, holding on to her warm little body and pressed her lips to her forehead. As she tries to explain everything today, she can only say: "I just tried to tell her how much we loved her; I hoped she could hear and understand. I talked to her as if nothing was wrong, but I felt delirious. It was so unreal. I felt the warmth of her; saw the pink in her cheeks. She just looked like a sleeping baby…I told her how proud I was of her; that she had fought for so long and could rest now. And I lay next to her."
But all the while, she thought, "How can I ever carry on without her?"
The evidence of their daughter's impending death hung in the room. The doctors that would collect little Alice's organs were there. The machines were unplugged, and Jennifer and Phil were left with their daughter as they waited for her little body to give up.
But, as Jennifer says, "The past and the future merged in that moment." That kiss, which was supposed to be a mother's last, would be the first of a new beginning. But the miracle that was about to happen wouldn't even register at first, just because of how close Alice had come to death.
"The truth didn't register at first," Phil said. "But then a nurse came in and said the strangest thing. She said the organ donation team were leaving; that they wouldn't be needed after all. Then a doctor came in and told us Alice was breathing without ventilation. They'd been watching her monitors in a separate room; they'd seen her rally."
Yes, little Alice was, miraculously breathing on her own, and while little Alice was still far from being out of the woods, Jennifer felt as if she had something to hold onto again.
"It was as if a bubble of despair had been popped," she said. "The sick feeling of being stifled just dissolved. Lovely Alice was with us again. We did not allow ourselves to feel joy – we did not yet know she was permanently out of danger – but the relief was indescribable. We felt we were witnessing a miracle."
And truly, they were. Alice, would be disabled, but now three-and-a-half, she has a smile as bright as can be. Her beautiful blue eyes are full of life, and her recovery is nothing short of amazing. While she still needs a lot of help with daily functions, like walking and eating, her parents celebrate each and every accomplishment.
"Alice was just like a newborn baby again," Jennifer said. "She couldn't control her head or sit up, but her kidney function was improving. That felt like a victory. After a week, she was moved back to Scunthorpe; it felt like a step closer to taking her home.  She had been fed by a tube, and when she took her first mouthful of pureed food, it was another triumph. Then she started to reach for my hand. Half her face had been paralyzed, but slowly, her smile came back. We kept thinking how lucky we were, and  as she progressed, we focused on getting her stronger and preparing her for coming home."
Her very first sounds, squeals of happiness, would be induced by her parent's happiness to finally have their daughter back at home. And even more steps to recovery have been made since. She recently said "Mummy" for the first time.  She now attends a special school, and she can use sign language to fill in the gaps. She even has a special bicycle she rides. While she still has a long way to go, it seems that little Alice will live out the life that was supposed to be over after that "last kiss."
"When we look into her room at night and see her sleeping peacefully, we pause for a moment and think how lucky we are," Jennifer said. She really is our little miracle."
Related Articles:
---