Our bath toys have always been woefully unorganized and as a result either end up nowhere near the tub at bath time or need to be replaced far too often because somebody forgot to properly dry them off. The Munchkin Super Scooper ($20) is a perfect remedy to our problems.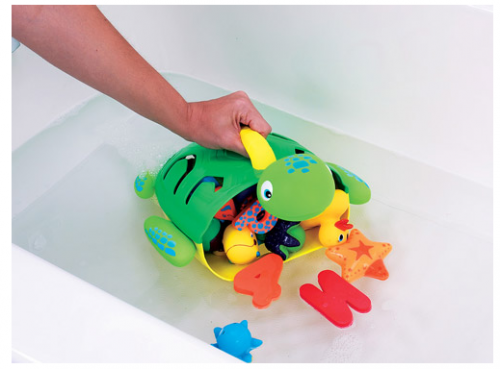 This scooper is shaped like a very cute turtle with strategically placed drain holes, a nice big handle, and a very handy adhesive wall hanger. The turtle is so cute in fact that, as often happens with our tub toys, my children grabbed him straight out of the box and moved him into the playroom.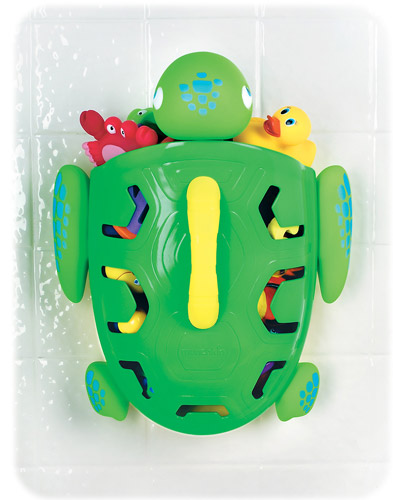 My son said he loved him too much to put him up in the bathroom, so he had to spend an appropriate amount of time floating around the playroom on dry land scooping up blocks, cars, and trains, and just being carried around before I could sneak him out to try in the tub.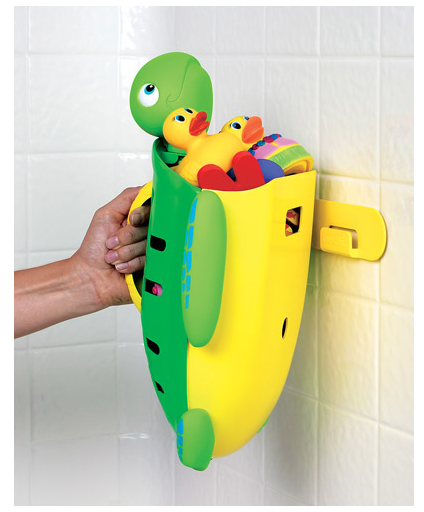 This super scooper is very generously sized and can hold a decent amount of bath squirters and little boats. If you have a huge amount of bath toys, you might need two, but all of our current toys fit nicely in this turtle. The wide mouth makes it easy and fun to scoop up each and every last toy before returning him to his hook on the wall. Your child might just insist on cleaning up all the toys. Once he's back on his perch the large holes in the turtle's shell allow water to drain away and all of your bath toys to dry nicely while waiting at the ready for the next bath. Plus he's fun to play with in the tub while he's off duty. The Munchkin Super Scooper is cute, and functional and will make a great addition to your bath time routine. – Kiersten, Staff writer