Just 2 weeks after Nadya Suleman filed for two trademark applications to patent the phrase "Octomom," so that she can use it on dresses, pants, shirts and diapers, Gloria Allred has filed a petition in Orange County Superior Court seeking a guardian to protect the financial interest of Nadya's octuplets.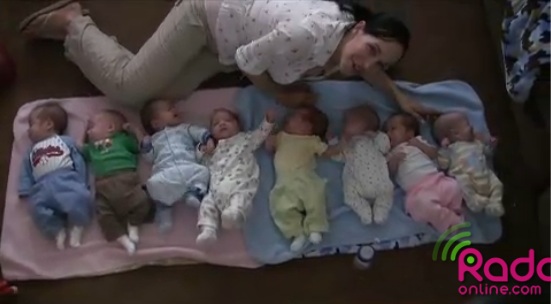 In a statement Gloria said,
"Rather than choosing to provide her children with a normal life, their mother, Nadya Suleman, has chosen instead to commercially exploit them. We believe that the babies are entitled to remuneration, since much, if not most, of the compensation appears to be for the use of their images."
Since bringing her babies home from the hospital, Suleman has allowed them to filmed on the celebrity website Radaronline, and a photo agency has released their images for sale. Suleman has also talked of signing a contract for a reality television show about her life raising octuplets and her six other children.
Gloria is acting on behalf of her client, Paul Peterson, the president of "A Minor Consideration," a nonprofit formed to give support to young performers. He is seeking an order that would create separate bank accounts for the babies' earnings and require Suleman to hire a professional agent for the babies, separate from her own agent.
She also represented nurses who filed complaints with child-welfare officials alleging that Nadya's home was not safe for the children.
A letter has also been sent to the California Division of Labor Standards Enforcement requesting an investigation into whether Suleman had broken California laws regulating child performers.
The problem here is that, like other families with mega multiples, Nadya needs this money to provide for her massive family.
She is not the first parent in this position to sell pictures, get paid for interviews or promotional opportunities.
Quite simply, Gloria Allred doesn't like Nadya. You don't see her all over the other 10 families on T.V. right now showing off their kids.
Do the Gosselins kids have their own agent who keeps their money separate? Probably not at first, but maybe now that the show is in it's 5th season…
---