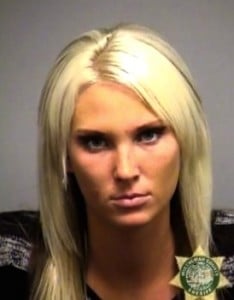 Last year 44 children died from being left in hot cars unattended, a stat that was a more than 25% over 2012's numbers.   This year 13 children have died from being left in hot vehicles, but those sad stats didn't deter an Oregon nanny from leaving two young children in the car while she bronzed her body at the tanning salon.
Kristin Marie Jones appeared in court on Friday on two counts each of first-degree criminal mistreatment, recklessly endangering another, first-degree child neglect and one count of driving while suspended after she left the children she was baby sitting in a hot car.
Last month Portland Officer Rian Hamby responded to a call at the Sunblaze Tanning salon to check on the welfare of two children.
When the officer arrived,  a witness directed him toward a Dodge Caravan that contained two sweating, and screaming children.
As officer Hamby was taking the two-year-old boy from the car, Jones walked out of the tanning salon, and removed the 2-month-old girl from the vehicle before everyone went back into the salon.
The boy was "soaked in sweat." and so hot that "the officer felt the heat radiating from (the child) through his bullet proof vest."
On the afternoon the temperature was approximately 90 degrees, and none of the vehicle's windows were open, the police report stated.
Initially Jones told police that she left the children with their mother in the car, when in fact the mother was at work all day.
According to Koin.com Jones entered a not guilty plea to the grand jury's indictment and she will appear in court again on August 15.
The report of the incident comes just a week after two children were found dead in their parents vehicles, and a third infant, who was just two weeks old, was rescued from the trunk of her mom's SUV.
---
[ad]