For us, one of the benefits of traveling while my kids were small was that they could fly for free before they are two. But now, for safety reasons, the National Transportation Safety Board (NTSB) is recommending that parents get their little ones their own seats.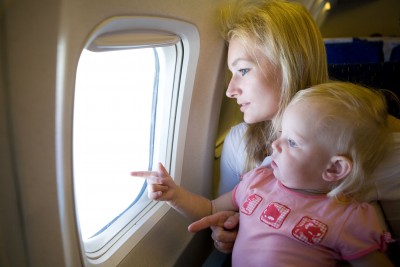 "Early Show" Consumer Correspondent Susan Koeppen explains that, under current rules, babies under the age of 2 can fly for free if they fit in their parent's lap, something the NTSB says, is just not safe.
Susan says, "Board any plane and the rules are clear. All bags must be stowed for takeoff and landing. Seat belts must be buckled — but not so when it comes to babies."
The NTSB, along with the Association of Flight Attendants, has tried for years to convince the Federal Aviation Administration and airlines to require seats for all passengers — including babies.
Debbie Hersman, chairman of the NTSB, said,
"Saying it's OK to have lap-held child sends the wrong message to parents. It's not OK to have a lap-held child in an aircraft."

"The laws of physics don't change for babies. They need to be restrained, too."
Jan Brown, a former flight attendant, feels very strongly about this subject. She knows first-hand the deadly consequences of lap-held children.
She was a member of the crew on United flight 232, which crashed during an emergency landing in Sioux City, Iowa. More than 100 people died — including a 22-month-old lap baby. His mom, who was belted in, survived.

Brown said, "Not all the love in the world could hold a child under those conditions. It's like playing Russian roulette to put them on a lap."
Other situations like sudden turbulence can also put lap-held children at risk. They can fly into the air and become projectiles.
Terra Converse was flying with her baby, Jake, on her lap, when she lost her grip during heavy turbulence.

Converse said, "That was so hard not being able to protect him."

He flew out of her arms, and slammed into the overhead compartment.

Jake survived with minor injuries, but not all lap babies are so lucky.
On its website, the FAA encourages parents to use child safety restraints but says it's not ready to make it a rule.
Debbie Hersman, chairman of the NTSB, said, "One thing we do know is that restraints save lives and that everyone needs to be restrained, especially our most vulnerable passengers and those are our children."
The fear is that families will opt to drive instead if parents are required to purchase regular-priced tickets for their babies.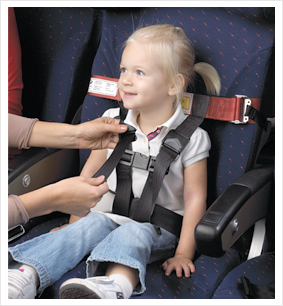 Currently, there are not many FAA-approved options for keeping your child completely secure during a flight. We recently tested the CARES Harness with our son and had great success. It was lightweight and kept him in his seat just like a car seat would, but without the bulk.
I personally think that if the airlines don't want children under 2 to fly without a seat they should offer infant car seats (the bucket) for babies under a year and toddler car seats for toddlers 1 and up. If it is going to cost me more for them to fly, there should be added amenities on board to keep my kids safe and comfortable.
Related Articles: