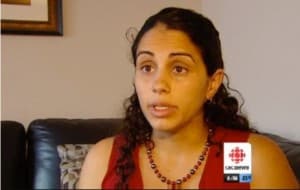 Nancy Salgueiro gained a lot of attention when she announced that she would be streaming her natural home birth live, via the internet. Over the weekend 2,500 viewers all over the world – Norway, Brazil, Australia – tuned in as Nancy delivered her third child, a healthy baby boy.
Nancy had decided to stream the birth because she wanted to show other moms-to-be that they do have options and that birth, including home birth, is nothing to be afraid of.
"The goal was to show people that birth is normal and not a crisis. It's not what you see on TV. People give birth and it's not that big of a deal," Nancy said on Sunday.
Even her husband, Mike Carreira, who was pretty reserved about the whole thing but he was willing to support his wife in her passion, had something positive to say about the experience.
"It started to feel bigger than us and we definitely had a purpose behind why we did this – just letting women know they have choice, they have options. You do have empowering options."
Nancy's labor started around 5 p.m. on Saturday. By 12:30 a.m., she let her viewers know that she was going to try and get some sleep. If she slept at all, it wasn't much! Just a couple of hours later, she was back, telling her viewers that her contractions were just two minutes apart.
Nancy was well-prepared and already had her birthing tub set up in the living room. She climbed into the tub and just 20 minutes and a couple pushes later, out came six pound, 10 ounce little Oziah.
Nancy's midwives didn't make it in time because Oziah was born so quickly but Nancy's younger son did get to cut the cord, just like she had planned.
"Thank goodness we were at home because otherwise, we'd be on the side of the road," Nancy stated.
After the birth was over, Nancy and Mike sat around talking, shared some cheese and crackers and turned the camera off about two hours later. That evening, family and friends came to visit and they all shared some birthday cake.
Related Posts:
---
[ad]