When our children come down with an illness, and we as parents are unsure of its cause or what it is, it can be a nightmare. We do everything in our power to get them better, which includes taking them to the hospital, if need be. Just imagine if a situation like that arose while you were vacationing. For one San Diego family, this was their nightmare this past week – except they were nowhere near a medical facility.
Charlotte and Eric Kaufman, along with their two young children, Cora, 3 and Lyra, 1 were vacationing aboard their sailboat, Rebel Heart, planning to circumnavigate the globe. Setting sail from Mexico on March 19th, the family was only two weeks into their trip when little Lyra suddenly fell ill, experiencing a rash and high fever.  To add to the situation their sailboat also lost power.   It was then that the Kaufman's sent a satellite distress call to the Coast Guard on Thursday April 3rd. The California Air National Guard's 129th Rescue Wing dispatched a military transport plane carrying four medics, various gear and medical supplies to the family, who were 1,000 miles off of Mexico's Pacific coast.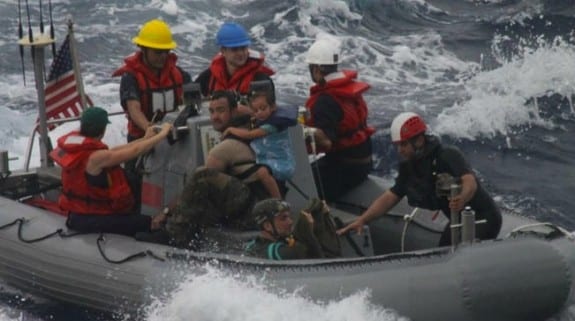 According to Coast Guard spokesman Second Lieutenant Roderick Bersamina, once the medics found the family's boat, they parachuted from the plane into the Pacific ocean, where they then inflated a raft, rushing towards the sailboat to evaluate and treat Lyra. The medics then stayed on the sailboat with the Kaufmans while they waited on the U.S. Navy frigate to bring them back to California. Bersamina says, "They took it upon themselves to do whatever necessary to save her life."
Naval ship, the USS Vandegrift arrived early Sunday. The family was then put into an inflatable raft, where they were transferred to the frigate. Now, it is a waiting game as to when the ship will arrive in California with the Kaufman family. Coast Guard spokeswoman Lieutenant Anna Dixon says "The time frame will really depend on the weather, but we are expecting an arrival of early this week."
The Kaufman's are experienced sailors, with dad Eric describing himself as a certified dive master and licensed United States Coast Guard captain. Both Charlotte and Eric maintain a blog about their various sailing adventures with their family on their website, www.therebelheart.com. In a post dated March 26th, only a week into their voyage, Charlotte writes "I think this may be the stupidest thing we have ever done. Why did we pick such a hard way of traveling? Stupid."
The entire family is currently in stable condition, but will be undergoing further medical evaluations, according to a statement from the Coast Guard.
There isn't much hope for the Kaufman's boat.  On Sunday Authorities were in the process of sinking it because it was taking on water.
---
[ad]