Neonatologists at St. Mary Medical Center in Apple Valley are working around the clock to save a tiny baby, who arrived 18 weeks early weighing less than a pound.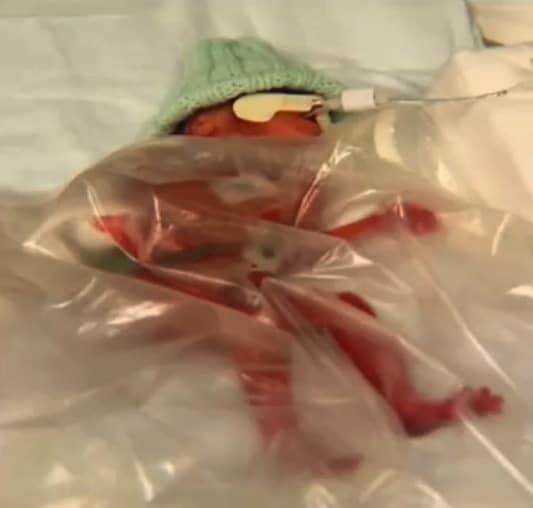 Decklen Maize was born on Tuesday at 22 weeks gestation weighing a mere 14 ounces.  While most hospitals have a 24 week threshold to resuscitate, the team at St. Mary Medical Center is doing everything they can to keep him alive.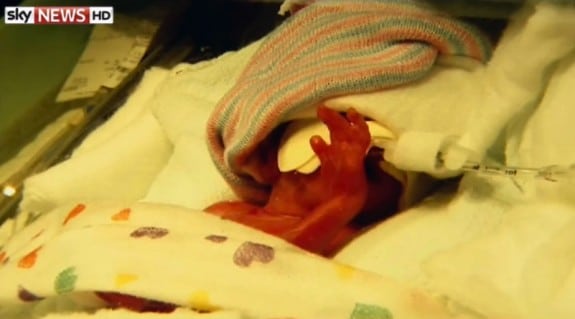 The tiny baby's parents are fighting just as hard for their little guy.
"Everyone's been telling us there's nothing they could do for him, that he's not passed the viability stage," mom Carrie Maize told The News. "But we thought if he comes out with a heartbeat and breathing, we want something done. If he's fighting, they need to fight with him and for him."
Last year they lost their baby girl, Lux Serenity at 22 weeks. This time around, they are going all in and doing everything they can to save their baby.
Not due until September Decklen was born via emergency C-Section after he suffered unforeseen complications from an umbilical cord prolapse in the womb.
The baby's dad, James, was stationed in Virginia when he heard about his wife's complications, but rushed back to California to be with his family.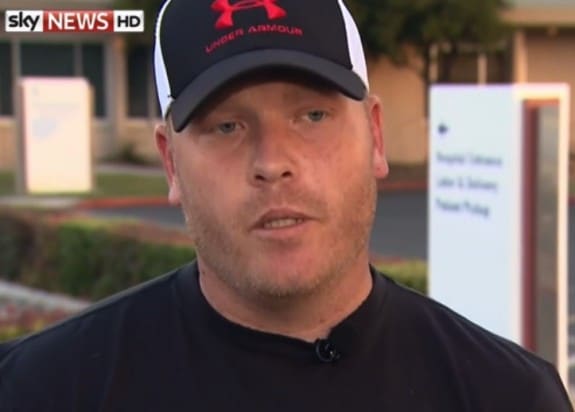 Often doctors aren't able to initiate care for these tiny babies because they are so underdeveloped that they are not able to find veins for IVs or tubes small enough for breathing support.  But Decklen is eating and thriving his mom told reporters, and hopefully that will continue.
"Our son was more than strong enough," Carrie said. "He's handling it like a champ."
The challenge here will be to prevent the baby from losing weight.  When babies are born they loose 7-10% of their birth weight, as they born with extra fluid.  Arriving at just 14 ounces, this guy doesn't have a gram to give.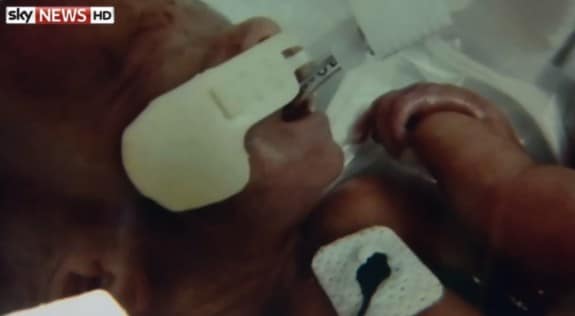 The Maizes are sharing their story in hope that they can inspire other parents to fight for their babies.
"There are other families out there in our situation who have been told that there is no hope," Carrie said. "But it is possible if somebody tries."
There have been many other babies who have fought and survived being born so small.  Last year baby Ameilia was born weighing 375 grams, which is 13.2 ounces.  In 2012 Kenna Moore defied the odds when she was born weighing just 9 ounces.    And while Kenna was tiny we noted at the time that a German baby, only known as Tom-thumb, survived arriving at 275 grams and Oliviyanna Harbin-Page was the smallest we have ever covered weighing a mere 259gms.
---
[ad]