NERF Fans rejoice!  There are some very cool blasters on the way.  Just a couple weeks ahead of Toy Fair, Hasbro has released details of 4 awesome new blasters that are perfect for kids of all ages!
The NERF N-STRIKE ELITE HYPER-FIRE Blaster will hit stores in Fall 2016. Created for kids 8+ it fires an impressive five darts per second on unsuspecting targets. With full-auto rapid-fire speeds and a high capacity 25-dart drum, the HYPER-FIRE Blaster will dominate the NERF battlefield! Includes 25 ELITE darts. Requires 4 "D" batteries, not included. Will be priced at $49.99.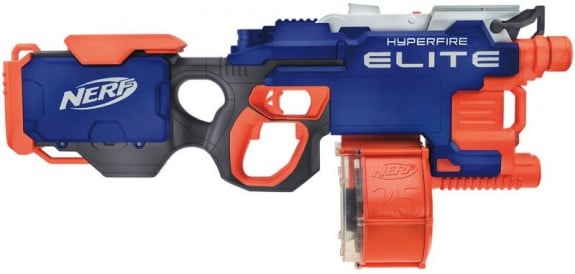 The first ever motorized blaster, the NERF MEGA MASTODON boasts incredible rapid-fire speeds to send MEGA Whistler darts screaming through the air with an integrated 24-dart drum. Bring the MEGA Mastodon into action to overwhelm targets with its imposing size. Use the shoulder strap for easy maneuvering to be ready for NERF battles anytime, anywhere. Includes shoulder strap and 24 MEGA Whistler darts. Requires 6 "D" batteries, not included. (Ages 8 years & up/Approx. Retail Price: $79.99/Available: Fall 2016)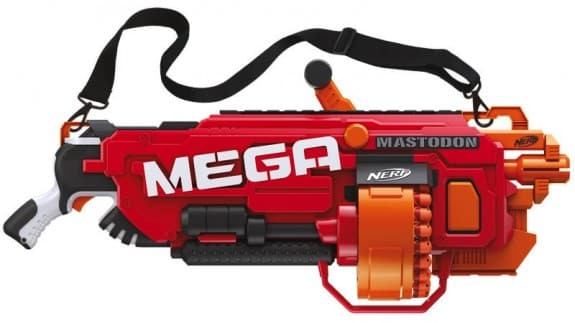 Kids can blast away the competition three ways with the NERF N-STRIKE MODULUS TRI-STRIKE Blaster! Customize the performance for each battle with ELITE slam-fire action, MEGA pump-action blasting, or a missile launcher for extreme firepower. Includes 10 ELITE darts, MEGA barrel with 4 MEGA darts, and missile launcher with 1 missile. (Ages 8 years & up/Approx. Retail Price: $49.99/Available: Fall 2016)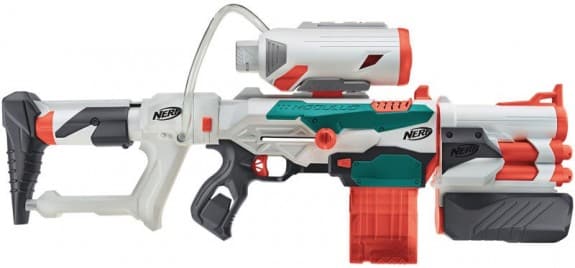 Designed for kids 14+, teens can send a barrage of NERF RIVAL foam firepower flying toward the competition with the RIVAL KHAOS MXVI-4000 blaster. The first fully automatic NERF RIVAL blaster, the high-capacity KHAOS MXVI-4000 blaster, boasts a 40 round magazine for battle domination. Available in red or blue, each sold separately Includes 40 NERF RIVAL foam rounds. Requires 6 "D" batteries, not included. To retail for $69.99 when it is released in Fall 2016.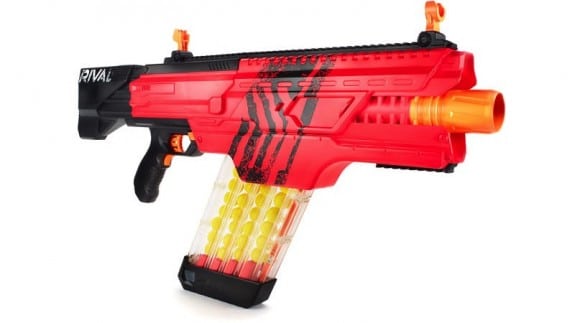 ---
[ad]