Families who use Good Start 2 Formula from Nestle should check their cupboards because Nestle has issued a recall for four batches of a baby formula as a precaution, the company says.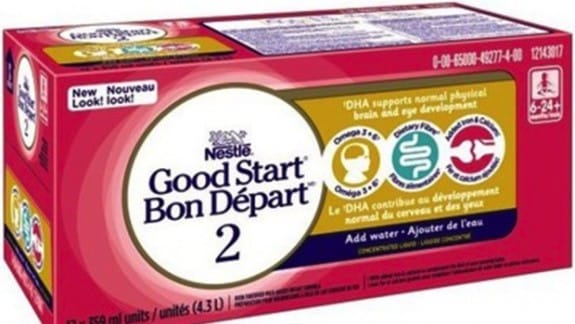 The product is sold as Nestle Good Start 2 Concentrate 359 mL with Omega Infant Formula, and is packaged in a tetra box.
Affected batches of the product are 512857211A, 512957211A, 512957212A, and 513057211A, and the case UPC number is 0-00-65000-49277-4.
Parents who have product from any of these batches are being asked not to use or consume it, but instead to dispose of it and contact Nestle for reimbursement.
According to Nestle, minerals in the formula may separate over time, causing them to appear as black particles in the concentrate.
They also note that consumption of the product could lead to lower intake of some nutrients.
The recall was triggered by complaints from consumers. Although illnesses have been reported in connection with the formula in question, the formula itself has not been confirmed to be the cause of those illnesses.
---
[ad]