While in New York City a couple weeks ago I had the opportunity to stop by the Playtime New York children's fashion trade show and meet some new, innovative children's designers.
Just a couple booths into my visit I spotted Neve and Hawk and fell in love immediately with their unique line. Completely made in the United States, every piece is handscreened by Charleston based, husband and wife team, Kris and Bob Galmarini.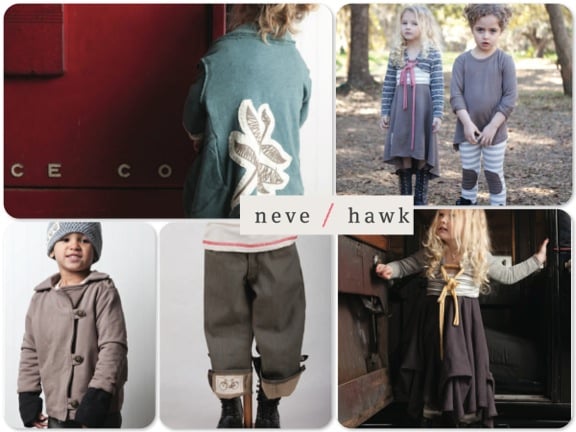 Truly designed with comfort and purpose, the collection is filled with practical pieces that wear well for play, but look absolutely beautiful on for everyday. Their site sums it up beautifully stating,
Our collection is made from soft, pleasant fabrics that kids love to wear. We limit the trim, buttons, and zippers to maximize comfort and stand up to hard play. The pieces are versatile and were designed to be layered and matched. Many are reversible or convert into another garment — skirts turn into dresses and sweaters are reversible for added wear, great for quick changes when kids dirty one side.
Among my long list of favorites are the Crosstown side button slouch jacket,The Camerton convertible skirt/dress, the Darby skirt/dress, the Carys cropped, crossback sweater and the Tradd skinny trousers.
Truth be told I really wish they would expand their collection to include adults because there are many pieces I would like to wear myself.
---
If you are looking for a unique gift or a few key pieces that will set your child apart from the others please visit Neve and Hawk online to check out their line!
---
[ad]