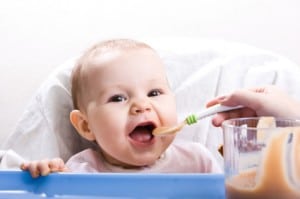 A new baby food is being developed by scientists and dietitians working for Alaska's Agricultural Research Search will combine wild Alaskan salmon, pureed salmon roe eggs and bone meal. This combination is a health alternative that will provide nutrients that aid in the infant's development.
Susan Brewer, a register dietitian and her college Peter Bechtel are in the process of developing this new baby food formula that will help increase omega 3 fatty acids within the infant's diet. These fatty acids are crucial for brain, nerve, and eye development within the infant.
As infants make the transition to solid foods they are not getting the amount of omega-3 fatty acid they need. This new baby food is hoping to fill the gap that currently exists in the market.
In order to provide a healthier baby food, Brewer and Bechtel are using red Alaskan salmon and salmon roe eggs to increase the levels of vitamin D and omega-3 fatty acids, docohexaenoic acid or DHA, infants need for normal development. They are also adding bone meal to their formula to increase the level of calcium.
"A newborn infant's brain is 50 percent DHA. However, babies and toddlers have immature livers and can't synthesize enough DNA to ensure an adequate supply to their developing nerve tissues. If small children are going to get DHA, they must ingest it in their food".
The baby food has been through rigorous taste tests, to assure that it is not only healthy but that it tastes good. Over one hundred parents of preschool children were given samples of the food to taste for themselves. Eighty one percent of the parents sampled reported that they would purchase the food and feed it to their children.
Brewer and Bechtel will be publishing their finds in the Journal of Food Science in the near future. – Jeff, Staff Writer
Related Articles:
---