In the last 3 years the Consumer Product Safety Commission (CSPC) has recalled 11 million Drop-Side cribs due to entrapment, suffocation and fall risks. According to them these cribs have been responsible for infant 32 deaths, 'almost all of which resulted when a baby's head or neck became entrapped after a malfunction of the drop-side crib mechanism'.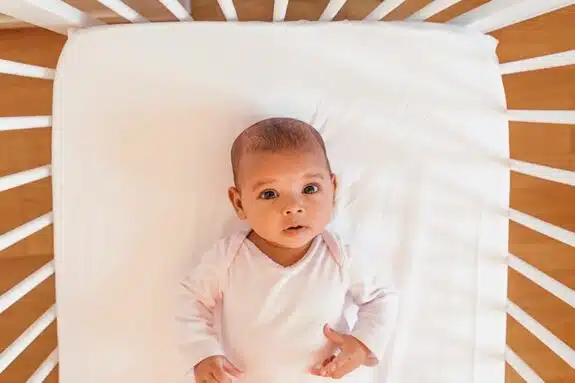 On June 28, the Consumer Product Safety Commission will put new crib safety regulations into effect that not only prohibit the manufacture or sale—including resale—of traditional drop side cribs, but impose stricter guidelines for crib manufacture.
The new standards, which will require that all cribs have fixed sides, will also require the slats to be made stronger to prevent breakage.  Crib hardware and mattress supports will also have to be more durable, and safety testing will have more stringent requirements to prove compliance. Crib manufacturers will have to meet these new standards or face possible mandatory recalls and civil penalties.
These new mandatory standards, which now give the United States the toughest crib standards in the world, have been approved since December 2010, an action that many consumer groups have been advocating for.
"Parents and caregivers should have peace of mind when they leave their baby in a crib that their baby will be safe. For too long that has not been the case," said Rachel Weintraub, director of product safety at the non-profit Consumer Federation of America.

"We congratulate CPSC for shepherding this strong and much needed consumer protection," she said.
Keeping Babies Safe president and co-founder, Joyce Davis, has been working since 2006 to establish more stringent consumer safety laws, after her four-month-old son Garret suffocated in his play yard in 2000 when he became wedged in the gap between the vinyl side and the added mattress.
"Our focus is safe sleeping," said Davis. Keeping Babies Safe addresses its message about sleep products to pediatricians, gynecologists, social services agencies and pre-natal classes.

Hand-me-down cribs are a bad idea, said Davis. "Second-hand cribs are the leading cause of infant deaths. Old cribs should be disassembled and disposed of. Throw out the loose screws and parts."
It is also recommended that when in their cribs babies sleep on their back and that the crib is free of toys, bumpers, pillows or extra blankets.
The new regulations also apply to cribs used by hotels and childcare centers, although those organizations have been given an extension and won't have to replace their cribs until December 28, 2012.
---