The miracle of life isn't lost on Seema Tailor-Bulsara as she cradles her son. In fact, she's able to see not just the miracle of her son's life, but also her own. Because, at five months pregnant with her son, Seema learned that she had breast cancer.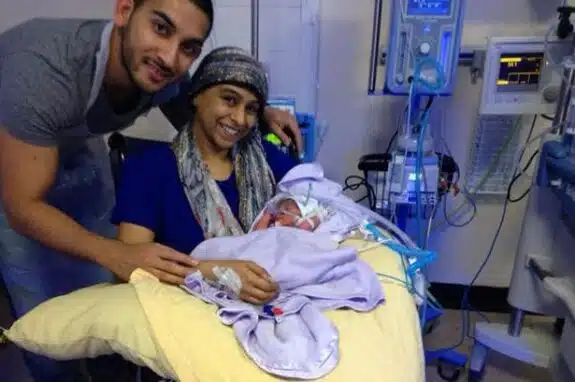 "I thought the lump might be a blocked milk duct at first. But deep down, it just didn't feel right. Everything was just going too well," Seema told Birmingham Mail UK. But after receiving the diagnosis, she was in "complete shock. I was terrified what it would mean for me and my baby . . . I realized my baby might have to grow up without me."
Seema was fast-tracked through treatment, receiving surgery at Good Hope Hospital to have her left breast and seven lymph nodes removed just a week after her diagnosis. The risks were high, and there was a possibility that her baby wouldn't even survive, but it was absolutely necessary to save Seema.
"The breast care surgeon, anesthetist, obstetrician, and oncologist worked closely together to achieve one outcome: To save our baby and me," she said. "When I came round after the surgery, he started kicking, so I knew he was okay."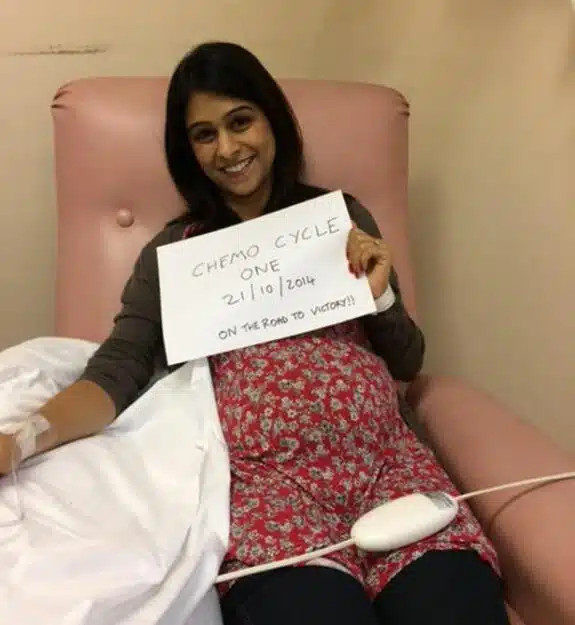 The risks weren't over for her baby just yet, though. She would have two rounds with doctors watching her and the baby closely before doctors recommended a cesarean at 34 weeks due to lack of fetal growth. But, thankfully, her son was born, safe and sound, at 3 pounds, 14 ounces.
"We decided to name him Jai, which means 'victorious,'" Seema said. "We never thought we would see that day, so when we did, it was victory for him and us. I couldn't believe that he was really there. He had little pink hands and was just adorable. It was an incredible day for us. That day, we didn't think about cancer. We were just elated, and it was all about him."
But the good news wouldn't stop there.
With Jai now safely out of his mother's womb, doctors could perform a full CT to determine if the cancer had spread to other parts of her body. Three days before Christmas, the amazing news came . . .
"I was changing Jai's nappy when the phone finally rang," Seema said. "I still cry now when I replay my consultant's words in my head, 'I have terrific news for you Seema, there are no further signs of cancer.' I grabbed my little boy and said, 'Mummy's going to see you grow up and get married!' I plan to do whatever it takes to keep my promise to my son."
Part of what she's doing to make sure that happens includes counting down the days until she can finish her chemotherapy sessions. But she also feels the pressing need to share her journey with other women, hopefully as a way to help them understand the importance of getting abnormalities checked instead of just ignoring them or thinking they'll go away.
"Unfortunately, there are no mammograms routinely offered to young women, and ofteh, the younger you are, the more aggressive the cancer can be," she said. "If you suspect something isn't right, then don't just ignore it and hope it will disappear . . . Cancer can affect anyone at anytime."
As for her discovery of cancer during the pregnancy . . . she attributes the discovery to her now five-month-old son.
"In a way, Jai has saved my life," she said. "The tumor was heavily dependent on hormones and the pregnancy fueled it. So Jain helped me detect it, otherwise it could have been too late before I did."
Related Articles: