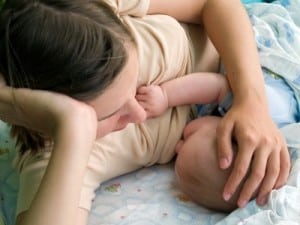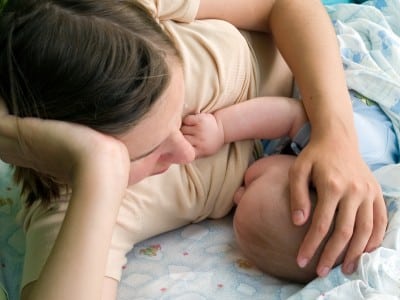 FertilityFlower, a recently launched website, aimed at helping women identify the best time to conceive, has conducted an interesting study to look at the thoughts women have towards breastfeeding and why they did or didn't use the 'age-old method' to feed their child.
The poll asked 3,102 mothers across America if they breastfed their children and the reasons behind their decision.
According to the research,71%, of those asked breastfed their children and a further 8% attempted to breastfeed, but gave-up after finding it too difficult.
Of those who breastfed their baby, 1 in 5 (21%) admitted to doing so to help them lose the baby weight and a further 16% breastfed because it was cheaper than buying formula milk.
More than two thirds(68%), of those who breastfed said it was so that they could bond with their child.
The research also found that 16% of the new moms didn't breastfeed their baby or even attempt to for the first feed because they were concerned about the affect it could have on their breasts (31%) or they were fearful that it would be painful(7%).
Almost one third of the moms that breastfed(29%) admitted to feeling 'embarrassed' at times and 15% of those that didn't breastfeed said one of reasons they chose to not breastfeed is the embarrassment they would feel breastfeeding in public places.
Kimberly Ann Racic, founder of FertilityFlower.com, commented on the research;
"Breast milk is the perfect food for babies. Therefore the decision to breastfeed or not shouldn't be taken lightly. However, I don't think anyone should be shamed into breastfeeding when they don't want to. Good news for women who would like to continue breastfeeding but are anxious about doing so in public, there are covers that can be bought or made that allow for complete discretion. "
She continued,
"If mothers are feeling unsure as to what is best for them and are struggling to reach a decision, I would suggest that they do some research online and talk to other mothers candidly about their fears. They are likely to get a realistic picture of what breastfeeding is like. After that, they'll be able to make the decision to breastfeed or not based on real information rather than perception. "
The results of this survey are an honest look into the reasons why women choose to, or not to, breastfeed. The more we understand about the reasons why some women do not breastfeed, the better we can offer support to those areas of life. – Summer, staff writer
Related Articles:
SOURCE
---