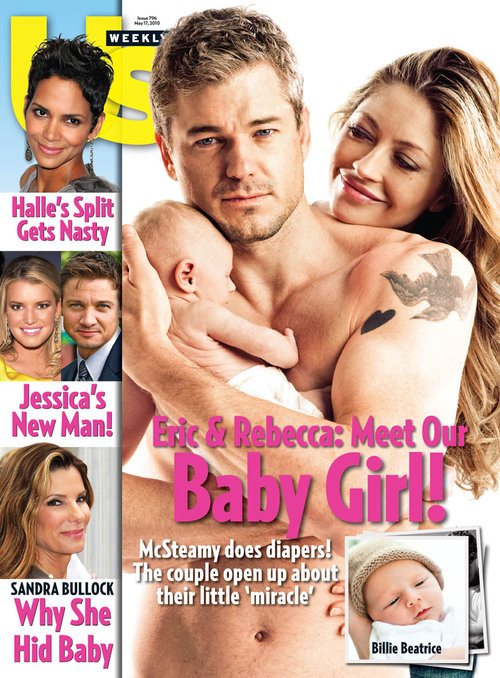 Proud parents Eric Dane and Rebecca Gayheart introduce us to their precious 2-month-old daughter Billie Beatrice Dane in this week's edition Us Weekly.
"She's beautiful," the Grey's Anatomy star told the magazine. "When she came out, she was really alert and her eyes were open. The doctor gave her to her mom, and I was so … you know, I was obviously very emotional."
Billie arrived on March 3 at Los Angeles' Cedars-Sinai Medical Center. Rebecca revealed to US that it
"was an overwhelming moment — probably the greatest moment in my life thus far. We felt so blessed. The moment we've been waiting for finally came."
For Eric, fatherhood has been
"life changing. It changes how you look at things and how you feel about things. I like to think of myself as an artist — but now I'm working for my kid. Now I'm a father. I've got a lunch pail, I go to work and I come home and I make sure my kid is taken care of, and I make sure my wife is take care of."

"Childbirth is a miracle," he adds, "and we've created this life."
For more pictures and the rest of the interview, please pick up a copy of the magazine, on news stands now.
---