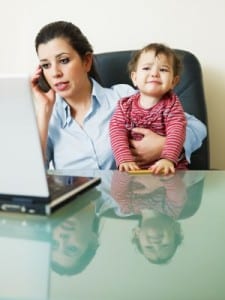 More and more women are redefining the way they balance their work, take care of their kids and even get time to think of an extra source of income to become the primary bread winners of the family.
According to a recent report by Waterford-based Sphere Trending, compiled for Inforum, a professional women's alliance in Michigan, the new women is navigating motherhood in a different way than in the past.
To understand the status of women in 2010 Inforum has released the second in its series of reports that were compiled from data from different researches and trends. Sphere Trending, looked at the status of women in diverse categories ranging from senior citizens, baby boomers, to the generation now moms, who live in the moment.
They found that the present day women are not afraid to experiment with new things. They take care of their jobs and have time to start and look after a business. They are savvy about caring for their family and themselves. They are also resourceful and know how to use technology like the internet to relax, get information and socialize.
"This report confirms the growing power and influence that moms have," says Terry Barclay, Inforum president and CEO. "It's starting to reach a point that they're such a critical mass that employers are going to have to help families balance work and family."
According to the report, America is increasingly becoming a more matriarchal society. She also explains that it is time to redefine the challenges of being parents as in present times raising a child is not anymore only a mother's area of work.
"It used to be moms were the sole carriers of that banner. This (report) gives us a chance to reframe the challenges as challenges of parents, not just women's issues."
For employers too, the way they hunt for prospective employees has to change according to Barclay as now many women are in demand but these new age moms come with a different mindset where they are not ready to choose either work or family and are also not ready to get overwhelmed balancing the two together.
"As the economy shifts from a manufacturing economy — depending on muscle — to more service and creative industries, the jobs are changing," says Susan Yashinsky, from Sphere Trending. "At the same time, more women are becoming much more educated and more of a force in the economy."
She also adds that in the future job growth will be higher in creative areas and service industries where women are dominant than in manufacturing fields dominated by men.
It is thus moms who can successfully manage all areas of their life – work, career, family, and kids without neglecting themselves, who will bring future economic growth. – Atula, Staff Writer
---