There has not been a lot of pharmaceutical advancement within the field of labor for the last sixty years, since the development of 'synthetic' Oxytocin. However researchers in Switzerland have recently discovered a test that enables Doctors to examine levels of lactic acid in amniotic fluid. The researches have found that a woman with high levels of lactic acid in their amniotic fluid indicates that they will be highly unlikely to deliver the child vaginally.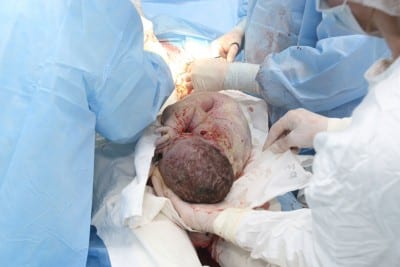 Measuring the levels of lactic acid would enable Doctors to make the decision to end a labor intensive pregnancy and begin the preparation for performing a caesarean.
Currently a handful of hospitals in the UK are using this test on their pregnant patients. More than half the caesarean procedures performed in the UK are due to emergency conditions. Identifying women before having to endure a long and painful labor that will end in a cesarean anyway will allow Doctors to perform the caesarean right away ensuring that the mother and the baby remain healthy.
Researchers at the Swedish company Obstecare developed the new technique and researchers at the University of Liverpool and the Liverpool Women's Hospital conducted the research.
What was found was that during labor the uterus produces levels of lactic acid when undergoing contractions. Like any other muscle in the body as the level of lactic acid increases the uterus muscle starts to tire and looses its ability to contract. At this point Doctors usually administer a dose of Oxytocin, which is designed to stimulate the uterus into contracting, however, not all women react favorable to the drug.
Johan Ubby of Obstecare commented by saying, "a high level of lactic acid in the amniotic fluid indicates that the uterus is exhausted. To stimulate this kind of labor with an Oxytocin infusion would be like asking a marathon runner to run an extra 10, 000 meters after he or she had passed the finish line".
Once the uterus stops contraction a caesarean is needed to be performed in order for the baby to be born without further complication.
Administering this test will aid the doctors in determining whether or not to proceed with a natural birth, low levels of lactic acid, or to perform a caesarean if levels of lactic acid are too high.
Professor Donald Peebles a representative from the Royal College of Obstetricians and Gynecologists was reported saying, "I can definitely see the logic, and it would be straightforward to carry out. I would be interested in seeing a large prospective study where you could see the impact it had on the management of labor and whether overall outcomes were improved".
Since researchers have discovered the ability to identify levels of lactic acid while women are in labor identifying those who will need a caesarean. Susan Wray from the center of Better Births believes that the next step would be to develop a means to rid the uterus of the lactic acid that inhibits labor. – Jeff, Staff Writer
Related Articles:
---