Last year when we visited Coronado Springs resort part of the property was under construction. Today the resort completed a multiyear re-imagining focused on today's travelers, marking the official debut of a new tower, new restaurants and a new arrival experience.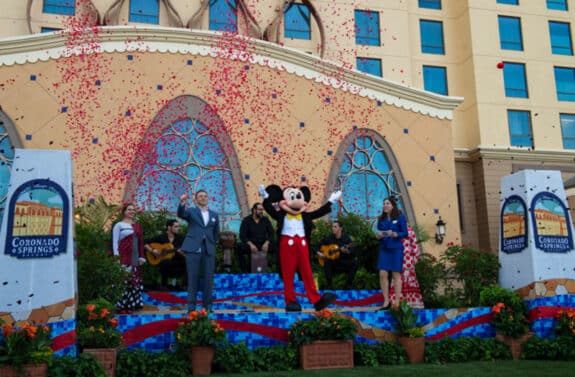 The new Gran Destino Tower is located on the southeastern shores of Lago Dorado ("Golden Lake"), the resort's 22-acre lake. The tower features 545 modern guest rooms (including 50 suites and club-level services), a grand two-story lobby, new meeting venues, and a rooftop restaurant and lounge with spectacular views.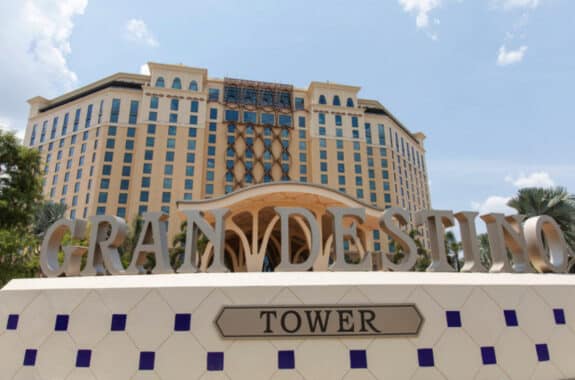 Gran Destino Tower takes its name from the classic Disney film "Destino." Drawing inspiration from the surrealist animated short, the tower is a whimsical, magnificent visual feast, diverse in its design and execution.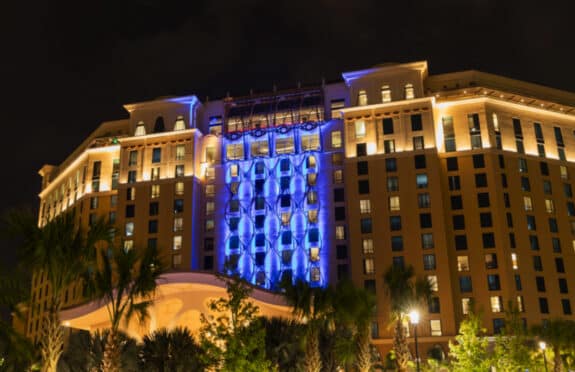 When the arrive guests will step into a stunning lobby – an homage to the Catalan Modernism style. On their way to check in, new arrivals pass intricate wooden screens with rows of beautiful Moorish hanging lanterns, while decorative bronze screens inspired by Spanish tile patterns accent the rear wall of the lobby.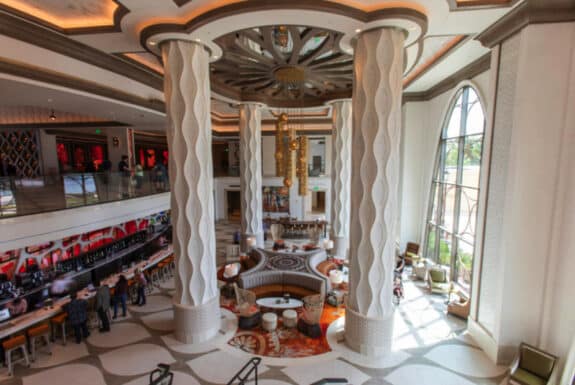 The Catalan theme extends to the tower's stylish new guest rooms and suites.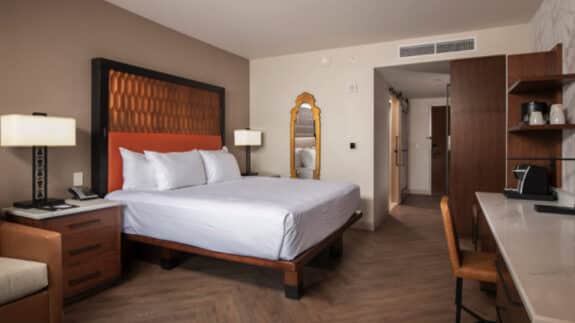 A wall covering in each room is inspired by Spanish tile medallions, adding an Old World touch to a contemporary design.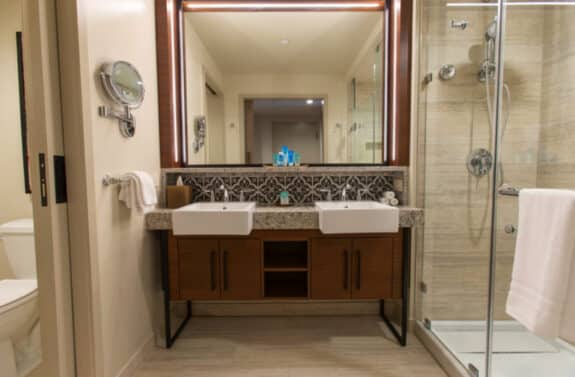 The new tower also offers club-access rooms for guests who want to enjoy the benefits of the Chronos Club. The club boasts commanding views of Walt Disney World Resort and cast members who can assist with vacation planning. Light refreshments are available throughout the day.
Each guest room also offers a new interactive television system that provides a more customized and Disney differentiated in-room experience. Guests can also view their Disney PhotoPass images on the large screen and stream their entertainment services from their personal devices to the in-room television.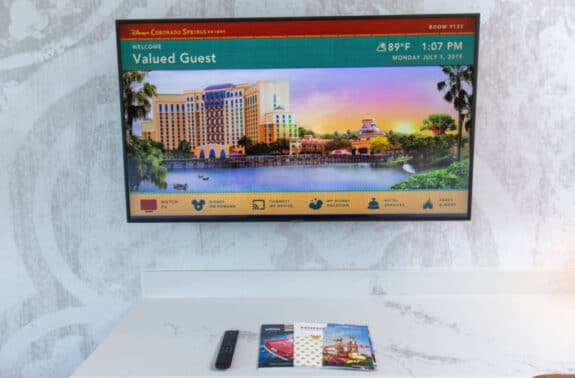 Gran Destino Tower is crowned by dramatic rooftop dining locations, Tolédo – Tapas, Steak & Seafood and Dahlia Lounge, offering breathtaking views of Walt Disney World from the tower's 16th floor. Named for the storied Spanish city home to avant-garde writers and artists of the 1920s and '30s, Tolédo – Tapas, Steak & Seafood is a table-service dining experience. The Spanish-inspired menu features entrees like chuletón, a 32-ounce, Spanish-style ribeye for two, as well as sustainable seafood and classic Spanish sides. It's all served in a setting that features live olive trees, vibrant colors and an intricate vaulted ceiling with stained-glass accents. There's also an onstage tapas kitchen inspired by the flavors of Spain, specializing in small plates, charcuteríá and cheeses.
These new experiences complement the wide array of amenities and experiences at Disney's Coronado Springs Resort, including floating gardens, scenic nature trails and palm-shaped courtyards.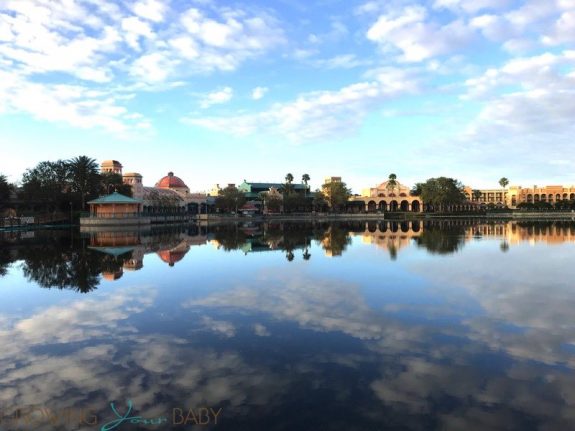 The resort also features the Dig Site – a sprawling pool complex with a Mayan-ruins theme – is fed by water cascading dramatically down a Mayan pyramid and features a water slide that evokes the spirit animal of a jaguar.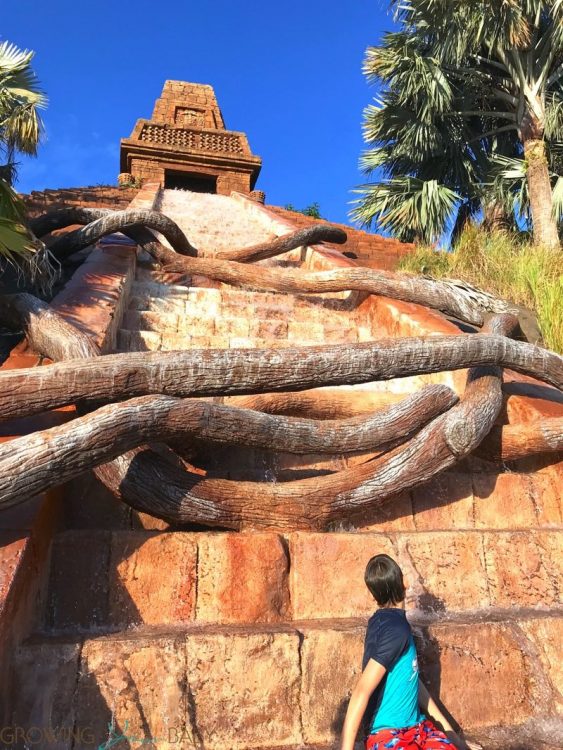 The Dig Site can be accessed via the new bridges over Lago Dorado.
All existing guest rooms at Disney's Coronado Springs Resort were updated with new fixtures, furnishings and lighting. Guest feedback helped shape the room remodel that introduced an expansive desk space, hard-surface floors, platform beds and more. In addition, a fresh, sophisticated new color palette ties together the entire resort experience.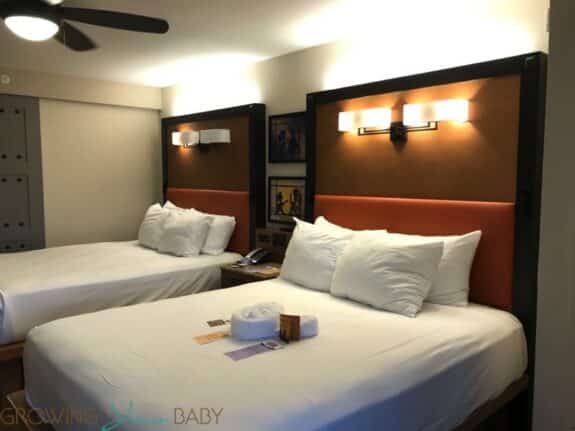 Disney's Coronado Springs Resort is now a celebration of Spanish, Mexican and American Southwest cultures, infused with a profound respect for the natural world – most notably water. These design motifs span centuries to form a common thread that connects the new with the newly re-imagined.