Police in North Vernon Indiana are seeking the public's help in finding a mother who abandoned her baby outside a church.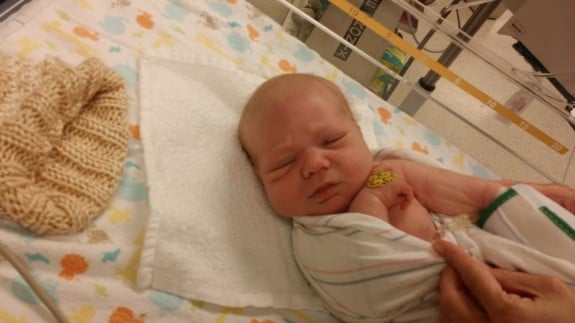 "I've been a police officer for over fifteen years, and we've never dealt with anything like this," said Sgt. Andrew Richmond, with the North Vernon Police Department.
The pastor's wife, Angeline Denney, found the baby near the trash outside Christ's Way Christian Church. The newborn was cleaned up and wrapped in several coats.
Paramedics took the child to Columbus Regional Hospital, where it was determined he was suffering from mild dehydration. But investigators said otherwise the baby was safe and sound, with no clues as to how long the child may have been laying there.
Investigators say the infant is Caucasian, and was less than 12 hours old when he was found. They don't have any clues as to how long he had been outside, but believe the child was delivered full-term and in good health.
On Friday evening, investigators revealed that the child had developed an infection and is being treated for the issue. Police are also concerned that the baby's mother could have the same infection, which would be life-threatening if not treated soon.
"This infection is above and beyond any of our earlier concerns of complications which could cause the mother health issues," the police noted.
On the Church's Facebook page, Angeline wrote,  "I have read the police press release and do not have additional information that would enhance the infant's well-being or help to locate his biological family. I will be praying for him and his family, and I ask that others pray, too."
The Indiana Safe Haven Law enables a person to give up an unwanted infant anonymously without fear of arrest or prosecution.

A parent, family member, friend, minister or priest, social worker or any responsible adult may give up custody of a baby less than 30 days old to a hospital emergency room, fire station or police station in Indiana.
Sgt. Richmond is a new father himself, which makes the discovery harder to take.
"This particular case with this age of the child, it does hit close to home to me," he said.
Investigators are hoping the baby's mom comes forward, given new information about the infection the child is facing.
---
[ad]