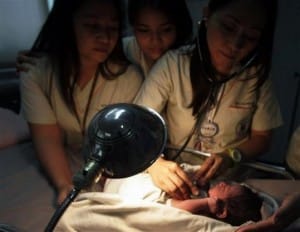 Over the weekend a newborn baby was found alive in the trash of an airline bathroom at Manila's international airport, Philippines. The mother of the baby has not yet been identified, however the baby seems to be healthy and well.
A flight from Bahrain, a small island country in the Persian Gulf, contained more than just passengers and luggage. After deboarding, an airport security officer found a newborn infant inside the garbage taken from the airplane's bathroom. The tiny infant was wrapped in tissue paper and still covered with blood. He was immediately taken to health care workers, who cleaned the infant and checked him over.
Despite the tragic start, the infant seems to be doing well and appears to be healthy.
"When we initially saw the baby, his color was not right. His color should be pinkish," airport doctor Maria Teresa Agores told reporters. But after the baby was cleaned, "he regained his natural color."
The infant was given to social workers while the police begin a search for the mothers. She could face criminal charges if found. The infant will be placed for adoption, or given to family if any can be traced.
The infant appears to be Filipino, however as the plane was arriving from the Middle East it is not certain exactly what origins the infant may have. An estimated one in ten Filipinos travel abroad to work as domestic workers in the Middle East. As the mother has not yet been found, it is unclear what are the circumstances behind the abandonment of the infant.
The baby was named George Francis, after Gulf Air's code name GF. – Summer, staff writer
Related Articles:
---