A 4-month-old baby who suffered complications after undergoing an intricate heart operation was "frozen" for four days to improve his heart problems.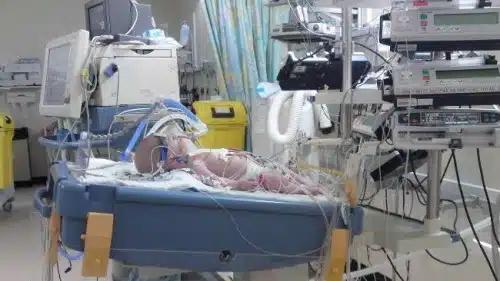 When Finley Burton was 10 weeks old his parents took him to the doctor because he was not putting on weight and was having breathing difficulties.
Tests revealed that he had a large hole at the top of his heart, a small one at the bottom and a narrowing of his heart's main artery.
At just 16 weeks old the tiny baby underwent surgery to correct the congenital condition.
Complications during the surgery caused his heart to go into junctional ectopic tachycardia – a very rapid and potentially fatal heart rhythm. It was then that doctors then made the radical decision to lower his body temperature from 37C to to 33.4C to stabilize the organ.
The process involved placing his body in a "cool bag" to reduce his metabolism, which slowed his heart rate.
He was also hooked up to an external pacemaker and given intravenous drugs that paralyzed him to make sure he did not disturb the equipment by shivering.
"Nothing prepares you for seeing your baby in hospital like that. I just cried," Finley's mom, Donna Link-Emery said. "Then he was gradually weaned out of his paralysis and his temperature was brought back to normal and his heart started to beat properly again."
Amazingly he only needed to spend an additional 12 days in the hospital after his body temperature was brought back to normal and now continues to recover well at home.
Dr. Asif Hasan, who operated, said:
"Finley had a big operation for such a small baby, We're pleased with how well he did."
Someone is clearly a little fighter!
Related Articles: