Little Remington McKensi May Rash might have a long battle ahead of her, but this little fighter has shown she's up for the challenge, every step of the way! Her first night, she proved her strength by turning herself over to face her mom, Meredith Rash. At seven days old, she showed her good nature by flashing her very first smile. And at eight days old, she survived the first of three heart surgeries . . . and she's still fighting!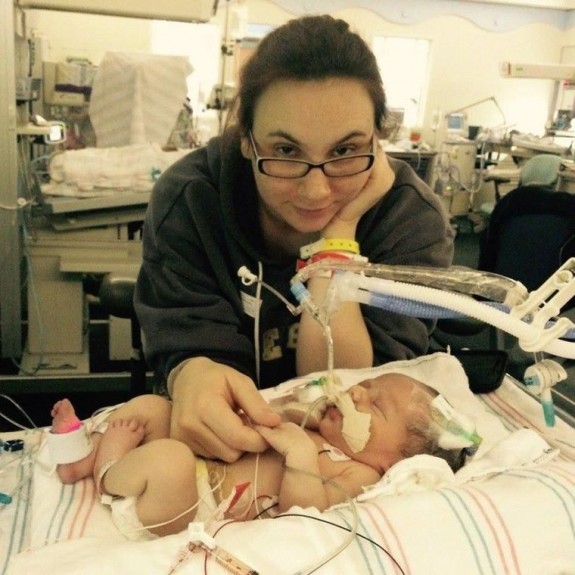 Remington – Remi, for short – was born with a rare genetic blood disorder called Von Willebrand Disease (VWD), which breaks up blood clots, even after they've formed. Remi also has a condition known as Factor Eight deficiency and mild hemophilia.
Her family has a history of both bleeding disorders, so they knew there was a chance that their daughter would be born with one or both conditions. What they didn't know was that, while in utero, the lower left chamber of Remi's heart failed to develop as it should have. The condition that caused the defect – Hypoplastic Left Heart Syndrome (HLHS) is both rare and very severe.
"Four out of every 10,000 people throughout the world have it," Meredith told The Humble Observer. "The doctor told me that, for adults and babies, it requires the most complicated surgery out of all the heart surgeries. And there are three rounds of it."
Add the complication of the surgeries in with her blood conditions, and the risks for Remi increase exponentially.
"With VWD, the symptoms are easy bleeding, bruising, having trouble clotting," Meredith, who was also born with VWD, said. "You can see that she's bruising easily right now for her, but she's also on Aspirin as a blood-thinner for her heart. She's got to have a perfect balance of clotting factor and blood-thinner."
And, even though she's already made it through her first round of surgery, the risk will still be extremely high when she undergoes her second surgery at six months. Doctors have also told Remi's parents that, even with the first two surgeries, it is possible that she'll never make it to the third at age three.
"There is still a very good chance of her dying before she's a year old," Meredith said. "Even though this was the most complicated of the three surgeries that she'll have, the doctor told us that she's still not out of the woods. Even after her second surgery, there are still chances of her heart giving out."
Thankfully, the family has the best doctors at memorial Hermann Northeast Hospital on their side. They've entrusted them with their daughter, and believe they'll do their very best to get Remi as far as they can, despite the complexity of all her conditions combined.
"The doctor had never encountered this combination of complications before, and he didn't know of any other doctors who had," Susan Rash, Remi's grandmother, told The Humble Observer. "But we're working with a good team of hematologists from the best medical center in the world. They said that, between them, they would figure it out . . . They're wonderful."
Related Articles:
---
[ad]