When Molli Potter was pregnant, and on bedrest, she was told that her baby would not be resuscitated if he was born before 24 weeks. Concerned their baby wouldn't wait her husband called 16 hospitals in 3 states to find one who would save her baby if he arrived before 24 weeks.
Arriving at 22.2 weeks weighing 13.9 oz baby Cullen was given a 2% chance of survival.
Not willing to give up, the little fighter endured 160 days in the NICU before being released home with his family.
Now 5 months old and 5 lbs 11 oz Cullen was given a proper send-off from the NICU at the University of South Alabama Children's and Women's Hospital in Mobile, Alabama.
When it came time to pick the perfect outfit his mom bought the cap and gown from a local Build-A-Bear store.
"We were [at Build-A-Bear] with our older son and my wife was looking and thought it would fit Cullen," said Cullen's father, Robert Potter. "The hat was actually a little big."
For his graduation ceremony, a nurse walked him down the hall of the unit while Robert followed behind with the baby's oxygen tank.  As graduation music played in the background, staff gathered to say good bye to the family.
A baby boy born at 22 weeks in our Level 3 Neonatal Intensive Care Unit (NICU) recently "graduated." We love the cap and gown!

Posted by USA Children's & Women's Hospital on Friday, August 24, 2018
Renee Rogers, the NICU's nurse manager said, "Our families spend a lot of time here and we become family with each other.  When it's time to go home, it's emotional not just for the families but for the staff as well."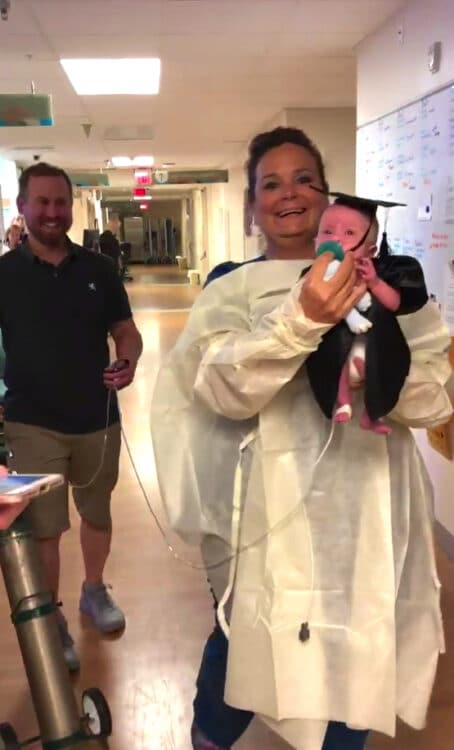 Cullen is on a minimal dose of oxygen but has no complications, according to both Rogers and his dad.
"We're relieved to have everybody home together," said Robert Potter. "With everything that could have happened, he is here and thriving."