After 10 years of trying, a Nigerian couple has been blessed with many bundles of joy! Earlier this week Dr. Ekpo Edet and Mrs. Esther Edet, both staff at the University of Calabar Teaching Hospital (UCTH) in Cross River State, became parents to a beautiful set of quintuplets.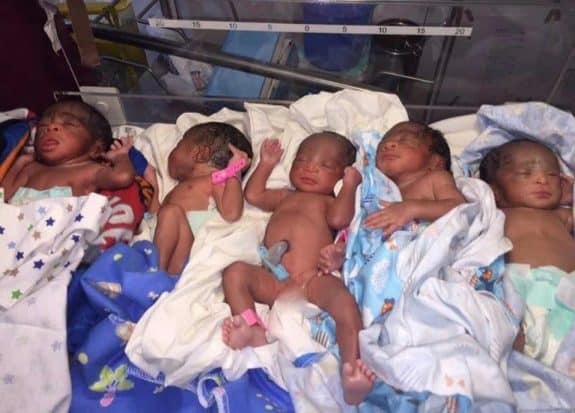 The three girls and two boys, who were born around 11am on Monday, weighing between 1.45kg and 1.75kg.
The excited dad told the media, "I want to thank God Almighty. He's a faithful God. The first time in the history of Cross River State, the first time in the history of UCTH. Five at a go! God has just been faithful as we have concluded the first phase and the doctors have confirmed that the babies are kicking. We are entering into the second phase and I know it's not going to be easy but I solicit for support from all well-meaning Nigerians, all my friends and well-wishers."
Some local members of the business community stepped forward to donate money and equipment to ensure the babies were able to get the best care. Wife of the Cross River State governor, Dr. Linda Ayade, made a donation of N1 million to the couple and N500,000 to the medical experts, who made sure the babies were delivered successfully. Dr. Ayade and the State Commissioner for Health, Dr. Inyang Asibong, together donated an incubator to the hospital on behalf of state government.
The babies are currently in the Special Care Babies Unit of the Teaching Hospital and are all in good condition.
---
[ad]