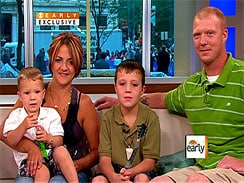 Toddler Brendan Hearn was found face down and not responsive in the family pool after sneaking outside. While his mother tried to perform CPR to save him, it was his 9 year-old brother that managed to save the day.
Logan Hearn may be only 9, but he is already a hero to his family. The boy had learned CPR through lifeguard lessons, though he never imagined needing to use them on his own brother. Yet when he saw that his mom was performing CPR wrong, he quickly pushed her out of the way to save his toddler brother's life.
"My son," Tabitha recalls, "said, 'You're doing that wrong,'" and kind of told me just to move out of the way, and did the procedure like it should be done, and it was working!"
The mother, Tabitha, thought she had her son in the house where he could not access the family pool. Like many toddlers, however, he found a way to get out when his mother was not looking. It can only take a moment for a toddler to find trouble.
"I opened the door," Tabitha said, "to see where Brendan was and I noticed my bedroom door was ajar. I looked outside quickly. The dogs were out there. He was not. I screamed for Logan, 'Where is your brother?" He says, 'I don't know.' And the first thing I thought was, 'He must be in the pool.' I ran outside and there he was, in the pool."
While waiting for the paramedics to arrive, Logan quickly tilted his brother's head and began performing CPR. Soon the water began come out and Brendan began breathing again. Despite the frantic situation, Logan was able to remain in control of the situation.
Logan's father, Brent Hearn, told Smith, "Even as an adult, I don't know if I could do that. I could try to do CPR, but to have that composure, and to have that patience, you know, is just amazing at that age."
According to Logan's parents, he is already their miracle child. Logan had a liver transplant when he was only 7.5 months old, and has only been off anti-rejection drugs for the past three years. – Summer, staff writer
Related Articles:
---