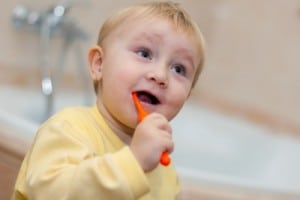 In the US, an estimated 11 percent of 2-year-olds and 44 percent of 5-year-olds have cavities. Many of them come from low income families who cannot afford preventative dental care. That is where North Carolina has stepped into with their new program "Into the Mouths of Babes."
Since 2000, this program has been helping low income families provide dental care to their children in North Carolina. In the program, pediatricians and family doctors give children dental exams and fluoride treatments to children who are part of the state's Medicaid program.
Children between the ages of 6 months and 3 years are eligible for up to six doctor's visits with dental care. During each visit, doctors check the children's teeth, apply a varnish to help prevent damage, and explain any dental care their children may need.
The program has been considered a success by some. During 2000-2006, children who were part of this program were 17 percent less likely to have cavities than those who did not receive dental care.
"This speaks to the fact that prevention does work," said Dr. Mary J. Hayes, a pediatric dentist in Chicago and spokeswoman for the American Dental Association.
Previous beliefs were that children did not need dental care until around age 3. It was thought that because their "baby" teeth were temporary, preventative care was not a necessity. New researcher has shown that prevention begins when the first teeth come in, though. Getting dental care during the early years of life can help prevent cavities and other issues from forming when their permanent teeth do come in.
It is now recommended that all children see a dentist by their first birthday to make sure their early teeth are coming in without problems and to prevent any issues from forming. For many low income families, however, this is often a problem as dental care can be expensive. Many families cannot afford insurance to pay for the care they need to receive. Programs such as this help to allow families to get their children dental care when they need it most. – Summer, staff writer
Related Articles:
---
[ad]