Wholly schmuckers Erin Maynard is a trooper!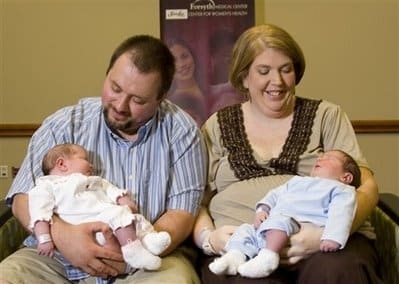 A North Carolina hospital announced today that the new mom delivered a bustling set of twins, who weighed in at a combined 23 pounds and 1 ounce.
Sean William Maynard weighed 10 pounds, 14 ounces; Abigail Rose Maynard, 12 pounds, 3 ounces. Both babies are in excellent condition after their birth to parents Joey and Erin Maynard of Winston-Salem.
The combined weight of the twins are about four pounds shy of the combined weight of twins born in Arkansas in 1927, the hospital said. Those twins weighed a total of 27 pounds, 12 ounces, hospital researchers said, adding they could find no public record of any heavier twins than the Arkansas pair born since 1900.
Related Articles:
---