Megan Whaley has been a labour and delivery nurse for 11 years.  Thankfully all of her training and experience came in handy when her baby decided to arrive before she could get to the hospital!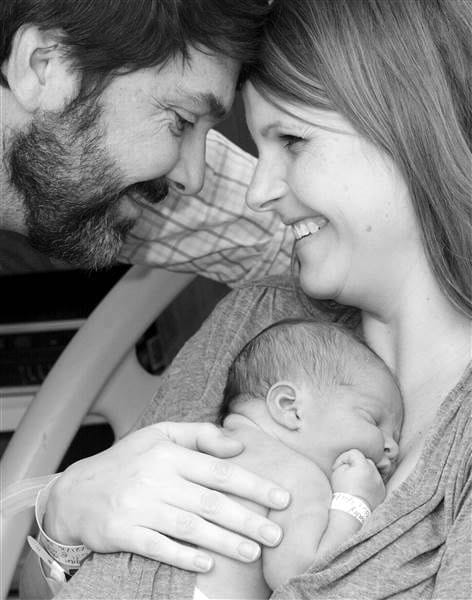 The mom-to-be was 40 weeks and 2 days pregnant when she started to feel contractions around 9 a.m,  She called her husband to come home from work, and planned to go to the hospital when he arrived around 10:30 am, but her baby had other plans.. Instead, when her contractions grew more intense, they called an ambulance. "I couldn't really talk at that point," she recalled, because she was in so much pain.
But just after her water broke around 10:20 a.m., she felt the urge to push. So while her toddler son watched television nearby, Megan went into nurse mode and covered the bathroom floor with towels and wadded up more towels between her legs to protect the baby from a fall.
"The cardinal rule is, don't drop the baby," she told Today.com, remembering her training. "That kept running through my head because we have a tile floor."
Shortly after she delivered Emery's head, she couldn't get her body out and was worried the baby was stuck.
"I remembered thinking, 'I've got to get this baby out,'" she said, "so I pushed as hard as I could and used my hands and just held her as she came out."
Once the 8-pound, 3-ounce was wrapped in towels, she began crying.
Her big brother came back in and couldn't believe what he saw. "He was like, 'baby?'" Megan recalled. "He held his hands out like, 'What just happened?'"
Megan's husband was coming up their long driveway when heard the cries of a newborn through the phone. "I knew it wasn't Deegan," he joked.
Tending to his mom, Deegan checked on her a few times in the bathroom, patted her on the head and even brought her a refreshment shortly before his sister was born.
"My son went and got a juice box and put a straw in it and asked if I wanted some juice," Whaley said. "Then he asked me if I wanted to watch 'PAW Patrol' with him."
When the paramedics arrived they took the family to the hospital.
"That's a whole new level of respect of what she went through all by herself," David Whaley said of his wife's unassited homebirth. "She's an amazing lady. I'm very proud of her."
Adding,
"It's not 1860. This is not the 'Little House on the Prairie,'" he said. "People don't have babies at home like that, and if they do, it doesn't always turn out like ours did."
Now that life is back to normal Megan is thankful for her little girl.
"She's been a really good baby and the boys are crazy about her," she said. "Having a daughter is just amazing. I love my boys, but I am really glad to have a daughter."
---