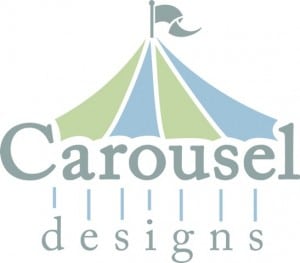 Decorating your nursery can either be a challenge or it can be one of the most enjoyable experiences you will have during this exciting time in your life. To help our parents-to-be plan their new baby's space we asked Rose Grove, the head designer at Carousel Designs for a few tips!
Becoming a parent can be overwhelming so first and foremost, she tells couples to try not to stress out during this process.
"There is really no wrong or right when it comes to decorating your nursery," she continues.  "It all comes down to what you like.  This is your time, enjoy it!"
1. Start with something simple and build on it.
This can mean starting with anything that becomes your inspiration.  It can be a piece of furniture in a particular period style such as modern, retro or shabby chic.  Perhaps it's a piece of artwork you fell in love with depicting adorable giraffes or whimsical butterflies.  Or perhaps a color palette caught your eye such as yellow and gray or pink and lime. Then run with it.  I once did my entire home based on one chair!
If you don't have that initial inspiration yet, don't panic.  Do some research.  It's a great excuse to go window shopping. If you are more limited on time, not a problem, browse some of the great websites or magazines readily available while relaxing at home.
2. Do you want to create a gender-specific nursery or go with a gender neutral theme?
If you don't want to find out your baby's gender in advance, but you still want a gender-specific nursery, you can get a head start on your decorating.  Simply choose a gender neutral color and basic décor, and then add the gender-specific touches later.  For instance, black and white make a great nursery color palette.  Simple dots and stripes add fun and whimsy for your baby's enjoyment (some experts say that high contrast colors such as black and white actually help stimulate your newborns visual abilities). After your baby arrives you can add splashes of pink, blue, green or any color under the rainbow!  You can also then add in any girl or boy theme you had in mind, like flowers and butterflies or trucks and cars.
If you already know the gender of your baby, this part is a bit easier.  Rules on colors for boys or girls are just about nonexistent in today's world.  For example, there are many new tones of blue out there that can be beautiful for your daughter's room.  Shades of blue/green such as a soft aqua with light lime or pink lend themselves beautifully to a baby girl's nursery. Slight touches of pink tones such as corals are even acceptable in a boy's nursery (although you may have to do some convincing here with dad)!
3. Look at things though your baby's eyes.
Think about things from your baby's perspective.  How will they view their new world?  Much of their first few months will be spent in their cribs.  Make sure they have things within their view to enjoy. Mobiles or paper lanterns hanging from the ceiling are great ways to stimulate their curiosity. Please make sure nothing is within their reach, however.  No stuffed toys or pillows in the crib!
Prepare your nursery for "quiet time" as well. Blackout liner on window drapes is a great way to help ensure your baby is able to relax and fall to sleep during nap time.  Perhaps some soft "mood music" to create a feeling of peace and tranquilly may help as well.  Not a bad idea for mom, either!
4. Budget doesn't mean you have to sacrifice a gorgeous nursery!
Here are a few ways to create your special room without breaking the bank …
Do you love hand-painted murals but find the cost a bit prohibitive?  Try some of the great peel-and-stick murals available on the market today.  They are hard to distinguish from the "real thing" and they're very reasonably priced.
If the elegant crystal chandelier is a bit out of your budget, get creative.  For only a few dollars you can purchase paper lanterns from a party store in a variety of shapes, sizes and colors.  Attach as many of these as you would like on the ceiling to create an incredible effect.
Get creative with fabric.  I love to cover almost everything with fabric. It works great on wastebaskets, picture frames, curtain rods, lampshades, etc. This creates a custom look without the custom price.
Remember, when decorating your nursery you really can't go wrong.  Throw the "rules" out the window and use your imagination.  You will be spending a lot of time in this room over the next few years, so make it your own unique space.  If you love it, your baby will love it as well.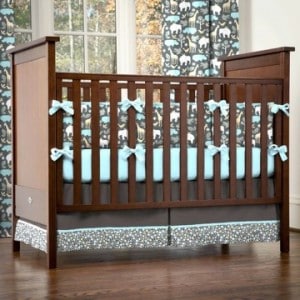 Most of all, relax and enjoy the process!
Georgia-based Carousel Designs, a contemporary and trend setting leader in the baby bedding industry was founded in 1988.   For more than 23 years Carousel Designs has manufactured high quality baby bedding, toddler, twin and full/queen size bedding and nursery décor.  Carousel Designs is the only baby bedding company that allows parents to design and create their own virtual nursery online with their Nursery Designer®, a unique, interactive design tool.  The company also offers more than 100 pre-designed ready to ship crib bedding collections and more than 300 fabrics to choose from in a range of versatile styles.  For more information visit www.babybedding.com.
---
[ad]