A public health watchdog group called Center for Science in the Public Interest is calling for McDonald's to remove toys from their kid's meals. The group claims these toys make it too tempting for kids to choose these over healthier options.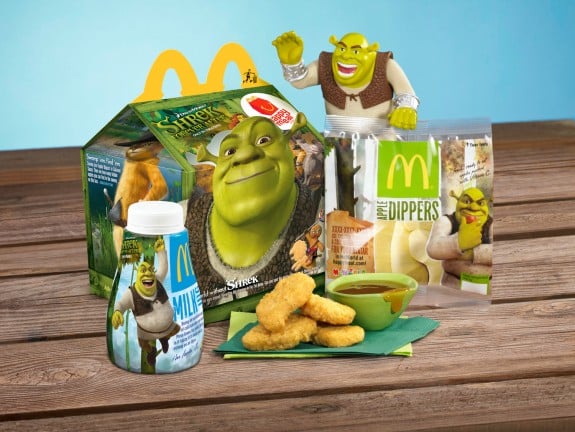 Just weeks ago, a Calfornia county became the first to ban McDonald's Happy Meals toys from being sold. Now the group Center for Science in the Public Interest is pushing for McDonald's to do away with the promotional toys offered in their kids meals. On Tuesday, the group began the lawsuit process by sending a letter to the fast-food giant stating their intent to sue if the toys are not dropped.
"McDonald's is the stranger in the playground handing out candy to children," Stephen Gardner, litigation director for the advocacy group said in a statement. "McDonald's use of toys undercuts parental authority and exploits young children's developmental immaturity."
A spokesperson for McDonald's says that the company disagrees with the group's claims. According to spokesperson William Whitman, McDonald's also offers healthy choices for kids, such as apple slices and low fat milk. According to Whitman, the toys are "just one part of a fun, family experience at McDonald's."
Opponents say that offering toys to kids only fuels the obesity epidemic by making unhealthy foods more appealing. As concerns over the health of overweight children continues to grow, lawsuits such as this may become more common place.
Related Articles:
---
[ad]