In a rare event, a Brooklyn mom has been blessed with a set of twins for the third time!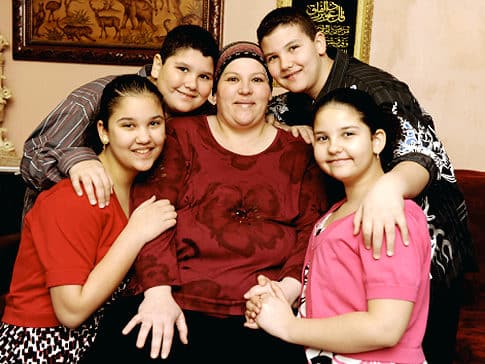 Twelve years ago Gezime Amer gave birth to her first set of twins 12 years ago, Abdulah and Rahman. Two years later, she and her husband were hoping for a girl with their second pregnancy and they got one – plus her sister!
Now the fertile mom is six months pregnant with her third set of twins.
"God blessed me with the genes to have twins," said the elated Sheepshead Bay mom. "They came to me all natural, too."
Gezime's gynecologist, Ayman Shahine, said he's never come across a mom so genetically prone to twins – identical or fraternal – in his 20 years of practice.
"When she had her first twins, she was scared. Then she had two girls and she could not believe it. Now, she's an expert."
Only 15 out of 26,000 members of the National Organization of Mothers of Twins have reported giving birth to several sets of twins.
"It is rare, but multiple births do happen," said Pam Krell, executive vice president of the group. "An extra baby means extra joy."
A fact that Gezime agrees with. Even though the family doesn't have a lot of money, the couple teaches their kids to appreciate each other. "Blood is thicker than water."
The older kids say they can't wait for the babies to arrive so that they can school them 'in the ways of twindom.'
"We are very close. We go everywhere but the bathroom [together]," Rahman said of him and his brother.
"When you are [a] twin, you know someone always has your back," said Kerima. "You know you'll never be alone."
Good luck to this couple – not that they need it. They're pros!
Related Articles: