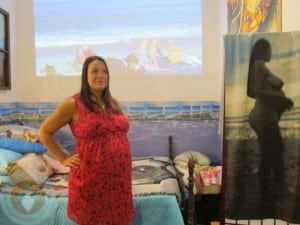 In what she considers to be the "highest form of art", Marni Kotak successfully gave birth to a healthy baby boy this morning before an audience in a home birthing center she constructed at the Microscope Gallery in NYC.
For weeks leading up to baby X's arrival, the first time mom has been the subject of discussion online after she revealed her performance plans, saying that giving birth 'the greatest expression of life is the highest form of art'.
To prepare for the arrival, Marni set up a birthing room in the gallery that was equipped with a bed, an inflatable birthing pool, a shower and a rocking chair.
With the baby's due-date uncertain, the gallery put together a list of visitors to notify when she goes into labor.  While they did not disclose how many people were present for the birth,  Araceli Cruz of the Village Voice arrived at the just after the delivery and described the scene:
Kotak calmly eating a banana, the placenta in a bowl and the baby's father, Jason, holding his son who was wrapped in a blue towel. The beautiful baby boy was wide-eyed, and as quiet as could be, staring blankly into the camera and video lenses that hovered above him.
The Microscope Gallery plans to show video of the birth for the rest of the exhibition, which continues through Monday, Nov. 7.
Now that the baby has arrived, Marni will transition into her next performance: "Raising Baby X".  For this she details the performance plans on her project statement on her Web site:
Various aspects of raising the child will be taken into consideration such as food, education, clothing, the child's room, healthcare, playtime, travel, safety, discipline, entertainment, and simply loving the child. In addition, I will write and publish an anthology of memoirs about my experiences with motherhood, containing journal entries, photo documentation, and discourse on current social issues relevant to the project and facing all mothers today, such as whether or not to vaccinate a child, how to support your child's education, school nutrition, the influence of the media, and how to balance work and family life.
While this all sounds good in theory, isn't what she outlines here just parenting?  I bet that most moms out there would say that it really doesn't get interesting until you add a couple more kids, school and sports schedules.  I mean really.  I didn't know how good I had it until I had my second son and god bless all of those moms who have 4, 5 or 6 kids.  Now THAT'S performance art at it's best! And if want a REAL performance birth, that award should go to the moms who deliver unexpectedly on an airplane or the side of the highway.
---
[ad]