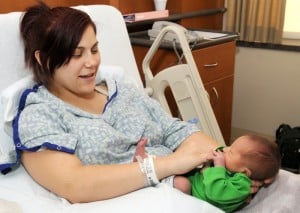 Already parents of a two-year-old daughter, Kaci and Anthony Boudreaux were excited about welcoming their next child into the world. But during a routine ultrasound, doctors would learn that their son would be born with myelomeningocele – the most severe form of spinal bifida. Thankfully, these brave and amazing parents lived near Ochsner Medical Center in New Orleans.
Myelomeningocele (MMC) affects about one in every 1,000 babies in the United States each year. Children with this condition have an opening in their spine which leaves their spinal cord exposed. Spinal cord nerves are at a very high risk of injury because of their exposure to amniotic fluid – the very fluid that is necessary for healthy fetal development. This injury can result in a condition known as hydrocephalus – a buildup of spinal fluid in the brain. A shunt has to be placed after birth to allow the fluid to drain, but even with that, neurological damage can occur. What's more, children with MMC may suffer lack of mobility in the lower limbs, sensation impairment, bladder issues and bowel issues for the duration of their lives.
Generally, surgeons will wait until after a baby is born to perform any surgeries that would repair the defect. But back in 2011, the Management of Myelomeningocele Study (MOMS) found that babies could actually cut their chances of needing a shunt if they received the surgery while in utero. Having the surgery prenatally also increased motor functions of children with MMC and doubled their chances of being able to walk independently by two years of age.
"When the fetus is just 12 to 14 weeks, we can detect the MMC malformation. As the pregnancy continues, we can see the nerve damage occurring," Clifton Moore, MD, a maternal fetal medicine specialist on the fetal surgery team at Ochsner Medical Center said in a recent press release. "That's why fetal surgery is one of the most exciting developments in the treatment of spinal bifida, with unparalleled results for the baby."
Unfortunately, only a handful of hospitals in the U.S. are equipped to perform the surgery. It requires the assistance of many high-cost specialists – pediatric neurosurgeons, plastic surgeons, maternal fetal medicine specialists, general surgeons and pediatric specialists. ICU, NICU and anesthesia are also needed for the surgery.
Most patients that have needed the surgery have been referred out to California, Tennessee or Pennsylvania. Patients often have to remain in these out-of-state hospitals for up to eight weeks to ensure they receive the proper follow-up care. But Ochsner Medical Center may soon be one of those hospitals accepting referrals after helping to successfully close the opening of Kaci and Anthony's baby, little Colby Boudreaux.
"We knew we had everything necessary to offer this surgery, from the doctors and nurses to the equipment to the after care for both mom and baby, and we knew we could provide quality care equal to the hospitals that pioneered the procedure," Cuong Bui, MD, the pediatric neurosurgeon on the fetal surgery team at Ochsner Medical Center said in the press release. "[But] we spent a full year planning, preparing and practicing before we were willing to perform it."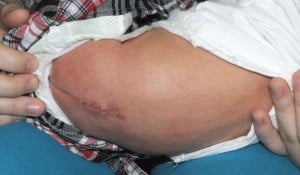 Colby weighed only one pound when doctors performed his prenatal surgery. The risky operation required surgeons to open up Kaci's uterus. Colby was lifted just slightly out of his mother's womb so that pediatric neurosurgeons could close the hole in his spine. A plastic surgeon then closed the skin incision. Colby was then returned to his mother's uterus. Doctors then closed Kaci's uterus to ensure that Colby remained tucked away safely until it came time for his delivery.
Twelve weeks later, Colby was delivered. He weighed in at 4 pounds, 12 ounces. The doctors that have been working with him are thrilled with his prognosis. Not only did he leave the hospital with both bowel and bladder functions, Colby had no evidence of hydrocephalus and he had excellent leg movements. Essentially, doctors say they received the best results they could hope for.
"To be able to intervene early enough so that a child will be able to walk, that's huge," Bui said. "To save a child from a lifelong dependency on a shut is remarkable. It doesn't only impact the baby, but it impacts the entire family. This is a landmark procedure for Ochsner, and also for the state and the region."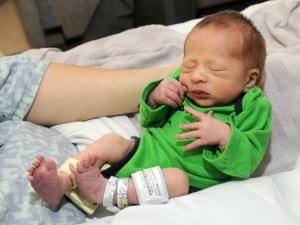 As you may have guessed, Kaci and Anthony are wonderfully grateful that they were able to receive the surgery. And not having to leave their home was a big plus. But what they are most grateful for is the hope that the surgeons at Ochsner Medical Center have given them.
"It means a lot to have a hospital near my family because we're all really close. It would be very difficult to travel to another state and spend more time away from my daughter. Being at Ochsner makes it easier and more comfortable than going somewhere else to have the surgery," Kaci said. "I really appreciate everything the doctors have done because it has made a big difference for me and Colby. I hope he can run around and play, and not have too many concerns of what he can and can't do. I think if we hadn't come to Ochsner, he wouldn't have had such a treat outcome."
And that right there, that appreciation and hope for a better future, is what makes it all worth it, Dr. Moore said.
"It makes me happy to see how well Kaci and the baby are doing," Moore said. "That's the best part of my job – to take care of the patient and give them something wonderful in the end."
Related Articles:
---
[ad]