In some countries, abandoned babies are devastatingly common. In others, they are almost unheard of. England is one of the latter, which is exactly why authorities are so concerned over the welfare of a mother who recently abandoned her baby in Northamptonshire.
Thought to be between one and four weeks old, the infant was found in a Tommeee Tippee box in Corby by a passerby.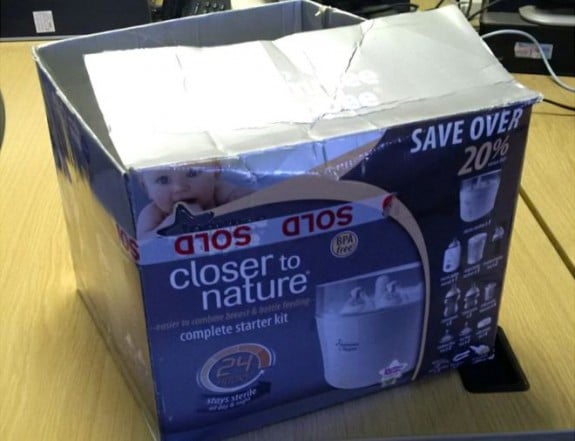 They had heard noises coming from the box and, upon investigation, discovered a baby girl wearing only a diaper. Wrapped in a blue blanket, the tiny girl with dark hair and dark eyes might have been completely missed, had it not been for the noises she'd made.
"My friend said she overheard a PCSO say that several people walked past the box before anyone realized what was inside. The recycling bins are collected around here on a Wednesday, so it's perfectly possible someone thought it was a bit of rubbish left out for the bin men," part-time pub chef, Janet Barr, 50, told Daily Mail UK. "It's a miracle someone heard her crying . . . I was very upset, but thank God the little one sounds like she will be okay . . . It doesn't bear thinking about what could have happened to the little baby."
Thankfully, the baby is reportedly doing well. Authorities say she is currently at Kettering General Hospital being cared for.
Police released a picture of the box the baby was found in, hoping that it might help them track down the mother of the infant.  They say they are concerned for her welfare.
"It's really important that, urgently, we trace the baby's mother," Northamptonshire Police Detective Superintendent, Steven Lingly, told Daily Mail UK. "We are concerned for her welfare. The circumstances of this are quite unusual, quite extreme, and if anyone knows of the mum or has any information, they can call police on 101."
Authorities are not the only ones who have expressed concern over the mother. In fact, many people in the neighborhood where the girl was found seemed to be concerned.
"Everyone here is worried about the mother, whoever she might be," Janet said. "She must be in a terrible state to give up her baby. It's an awful thing to happen."
Related Articles:
---
[ad]