It was a happy holiday for the Wasmus family of South Columbus, Ohio. On November 3, Deanna Lynn and husband Robert welcomed a third daughter, Raylin, a sister for siblings Mia – age 9, and Isabelle – age 6.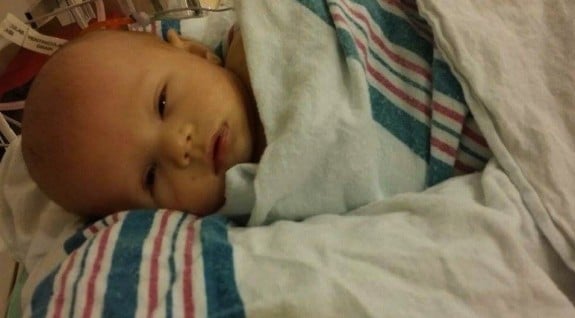 That happiness was short-lived. The baby became sick and her worried parents rushed Raylin to Nationwide Children's Hospital when she began vomiting and that vomit was green and yellow. On December 27, Raylin was diagnosed with Atypical teratoid rhabdoid tumor, a very rare and aggressive brain tumor that affects about three in every million children.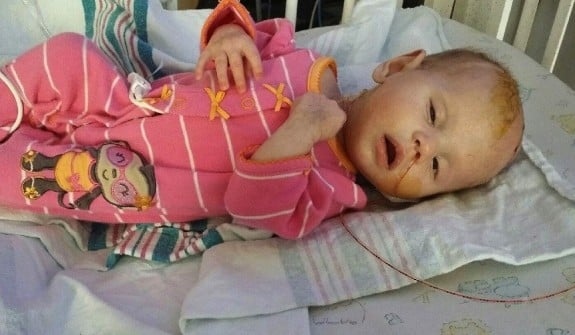 Dr. Mohamed Abdelbaki is an oncologist at Children's Hospital who explained that "20 to 25% of children with this disease will survive for around five years." A huge concern with this disease is the manner in which it can spread through a newborn's body. Raylin's odds were the worst, since her cancer was already metastatic and had spread to her kidneys and spine.
The tiny girl's right kidney was successfully removed but removing the tumor from her spine is high risk and could cause paralysis. On Monday, Raylin started a three week round of chemotherapy.
In the face of all this heartache, her parents continue to look to each other for strength. Deanna Lynn says that they see Raylin getting better and then get worse news than the day before, adding "It's not something any parent should have to go through. The only thing keeping me going is holding my daughter every day. She'll look at me and I can't help but smile."
The family has set up a GoFundMe account to help offset medical and living expenses and their "Rally for Raylin" Facebook page provides updates on the baby's battle against her disease.
---
[ad]