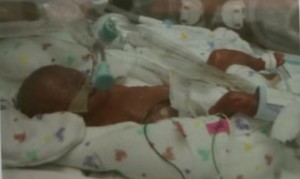 For the second time this week, a set of quintuplets has been delivered in the US.  On Tuesday, Aime and Vince Spicocchi welcomed a set of tiny, yet healthy quints in Akron, Ohio. The 24 week preemies are tiny, yet healthy and expected to grow well.
The Spicocchis were already parents of two, a 14-year-old daughter and a 4-year-old son. When they decided to try for one more they choose to use follicle stimulating hormones, something that their doctor says rarely causes large pregnancies. However the couple was shocked to find out last March that they would be bringing five new babies into the world.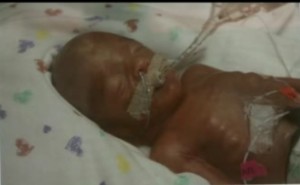 Aime was on hospital bed rest to prevent labor from coming on until at least 28 weeks. The babies, though, had other plans and Aime found herself having an emergency cesarean section at 24 weeks when the smallest baby started to come out.
The quintuplets were born weighing each less than two pounds, four girls and one boy named Ihla, Paige, Enzo, Ellie and Gia.
"When I first went into the NICU it was like going on Christmas morning and you want to open all the presents at once. It's amazing how small they are and how complete they are, eyebrows eye lashes fingernails everything," new dad Vince Spicocchi said.
A team of 33 doctors, nurses, respiratory therapists and neonatologists were assembled for their premature arrival. The infants were moved to the Akron Children's Hospital where they will likely stay as they grow and develop more.
"We're very happy with how each one is doing, they're all on breathing machines which is expected at their age but they're on low or moderate settings," Akron Children's Neonatologist John Ahmann said.
The entire family is excited to add the five new babies to their home as soon as the babies are big enough to come home. – Summer, staff writer
---
Related Articles:
---
[ad]